Read about our Cleaning Show 2013 Experience on our blog.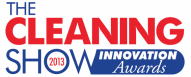 Morclean is delighted to have been awarded 'runner up' in the Cleaning Show 2013 Innovation Awards in the category: Pressure Washers/Graffiti Removal Products & Services: Bin Washing Machine.
We sincerely thank the Cleaning Show for their vote of confidence in our product.
The wheelie bin washing machine is brand new for 2013 and our staff have worked exceptionally hard, and we thank them sincerely for their efforts.