New Custom Optima – All new water treatment
New for Spring 2022 – to  be launched at Interclean May 2022,  the Custom OPTIMA. The ultimate in the Custom range of bin wash machines, this new model has a unique combined water treatment system to keep the recycled water much fresher and cleaner. You can join the Morclean team at the Amsterdam RAI 10th to 13th May on Stand 01.124
The BinWash OPTIMA comes with a brand new combined water treatment system:
A removable easy clean tray with pre-filter mesh to remove paper, plastics or debris etc. The 2nd lift-up catchment tray then takes out larger items of debris.
Recirculating water is automatically dosed, using a proportional dosing system, which introduces  a brand new biological  product to inhibit the growth of bacteria.
Developed specifically for the new OPTIMA machine, the dosing  product is naturally sourced and works both by cleaning (the surfactants) and by consuming organic waste at molecular level to outcompete bad (odorous and/or dangerous) bacteria.
The system is designed to stop smells at source (by outcompeting the smell causing bacteria) and any residue continues to work for 3 days after the cleaning.
The product is  shown to provide a better hygiene result, zero AMR (anti-microbial resistance, as caused by "anti-life" chemical cleaning).
It is non corrosive to the bin or cleaning machinery, plus safe for the operative and nearby flora/fauna.
A fine mesh screen [80 mesh/177 microns] filters the water. A filter [20 mesh/871 microns] is situated just before the pump
Water in the holding tank is then recirculated and passes through a washable filter [100 micron nylon mesh]
There are no hazards even if the product is spilled, it is naturally sourced and any discharge to drain helps with the waste water management by working against bio-film and organic waste. In this way, it is environmentally positive (not just environmentally friendly). The dosing product is also safe around animals, plants and (of course) people.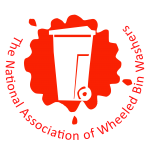 The National Association of Wheelie Bin Washers represents those wheelie bin washing companies that are able to satisfy the associations entry criteria, which requires them to comply with all existing legislation and guidelines for the washing of bins using high pressure pumps.