In 2022, Morclean launched a new range of industrial vacuum cleaners, designed to meet the needs of businesses across multiple sectors. These machines are built to withstand heavy use and are constructed from durable materials, including stainless steel and powder-coated steel, which makes them resistant to corrosion and wear.
The new range also offers high levels of suction power, with models built to suit different cleaning requirements. From the compact and lightweight machines that are perfect for small cleaning jobs, to the larger, more powerful machines that can handle more demanding cleaning tasks. Another important feature of these machines is their advanced filtration systems. Morclean's industrial vacuum cleaners are designed to capture even the smallest particles, including dust, dirt, and debris, which makes them ideal for use in environments where cleanliness is essential, such as food production facilities and hospitals.
In addition to their impressive cleaning capabilities, the vacuums are also designed with user comfort in mind. They are easy to manoeuvre and operate, with ergonomic handles and easy-to-use controls. And for businesses that need to clean large areas, there are options for extra-long hoses and extension wands, making it easier to reach every nook and cranny.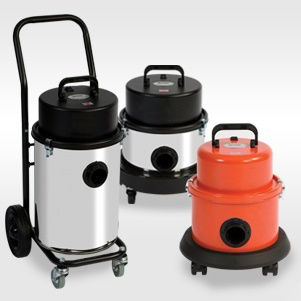 Light industrial/commercial
Although small in size, these industrial dry vacuum cleaners offer superior cleaning.  Housed in either non-magnetic corrosion-resistant stainless steel or electrostatically powder-coated pressed steel canisters.
Powerful motorheads engineered from electrostatically powder-coated pressed steel, a sturdy base with robust castors to glide across rough floors ensure this model is ideal for commercial cleaning and lighter industrial use.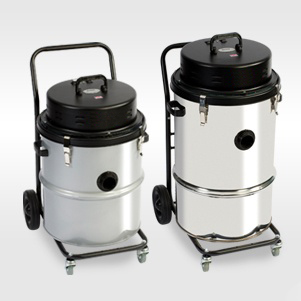 General industrial/commercial
Using current modern materials, this industrial dry vacuum cleaner is robust and hard wearing, yet is effortless to handle.
The unit is mobile, on a steel frame and easy to move when empty or full.
Durable and long lasting, Both the MV 65 and MV 110 offer a portable heavy-duty cleaner for industrial and commercial cleaning.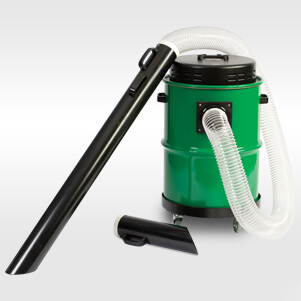 Large capacity/lightweight material
Not only built to vacuum lightweight dry waste and debris, the MV 90 can also be used with hoses to extract wood chip and shavings.
With a large capacity, lightweight materials such as plastic and wood chippings, granules, paper and cardboard and even fabric off-cuts are easily managed by this versatile machine.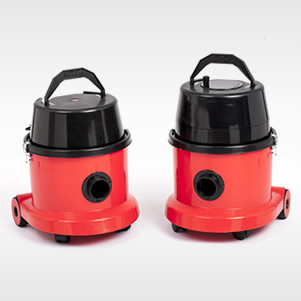 Robust lightweight build
Morclean's Prima models are perfect in light industry and commercial premises.
Built from moulded plastics that are resilient to take impacts, Prima models are reliable and robust yet packed into a lightweight build.
Twin fan motors, long cables and plugs that can be detached with ease, double castors on a solid base ensures the Prima models are stable yet manoeuvre easily – operators can vacuum in demanding environments with ease.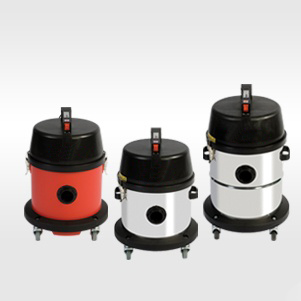 Versatile for different industries
This range of vacuum cleaners really offers versatility for industrial cleaning. Compacted into a sleek design, either injection moulded protecting from dents, or a stainless steel canister (non-magnetic), these vacuum cleaners can still reach into those tricky spots.
Smaller models manoeuvre effortlessly on four castors, with larger models gliding easily on a steel caddy. Each model can be provided with a single or double motor and tackle tough vacuuming jobs in a range of industries from food and beverage, construction, engineering and commercial cleaning.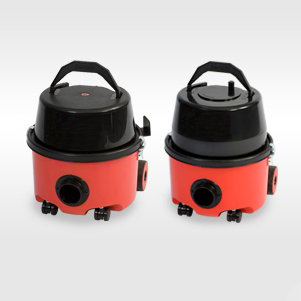 Practical tool storage and protective cover
Vacuum Cleaners in the Max range are perfect for light or heavier industry use.
Practicality has been considered as both models have handy storage to keep tools on board, and a cover that detaches keeping your vacuum cleaner and accessories protected when not in use.
Tough and light, the fully injection moulded Max and Max CD are under 7.5kg in weight with a convenient manual rewinding 10m cable.
Wet, Dry and Swarf Vacuum Cleaners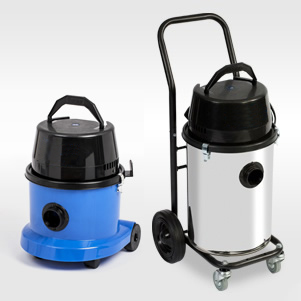 Ideal for educational, hospitality and commercial areas
There is no compromise on performance for Morclean's smallest Wet and Dry vacuum cleaners. You won't be disappointed in the efficiency and quality of build on these compact wet and dry models.
Aqua Prima is Morclean's smaller capacity wet and dry vacuum but still delivers and manoeuvres brilliantly due to its light weight and double wheel castors.
The MV 18/1 is a great performer with higher capacity, steel tube frame and larger wheels – it feels stable when it moves easily across uneven floors.  Perfect for a range of public and commercial premises including schools, colleges, the hospitality sector and contract cleaning and office environments.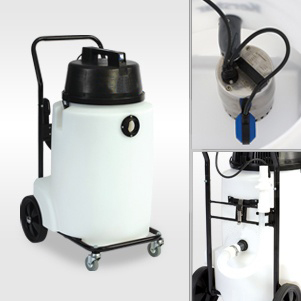 Easy to transport and high capacity
Morclean's MV 100 is a high-capacity wet or dry industrial vacuum cleaner that handles large volumes of liquids that can be quickly disposed of through a drain hose and stopper.
Easy to transport as the caddy can be removed from the vacuum, the MV 100 is designed to assist in many industries including emptying water tanks, recovery from floods, and the fire services.
MSV 45/2 W and MSV 45/2 C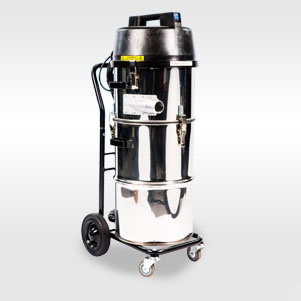 Liquid coolant and swarf removal
Morclean offers these coolant and swarf vacuum cleaners to quickly, safely and effectively clean down, minimising interruptions to your productivity.
MSV 45/2 C is a mobile cleaner that can efficiently vacuum swarf and metal fragments, ideal for milling machines and lathes. The MSV 45/2 W is also portable and will vacuum liquid coolants and metal fragments.
Both models minimise the need for operators to manually clean equipment, reducing exposure to contaminants and providing a much safer cleaning method. Perfect for the engineering and metal working industry.
Type H Industrial Vacuum Cleaners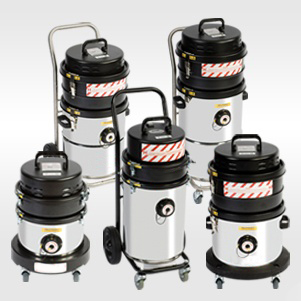 Cost-effective ATEX certified cleaner
Morclean's MAV 15-45 is a cost effective ATEX certified cleaner.  Using compressed air power, the MAV 15-45 Type H can vacuum higher hazardous dusts and debris that would pose a more serious risk to health.
This vacuum cleaner can be used in Gas Zone 1 and 2, and Dust Zone 21 and 22, offering 99.995% filtration efficiency.
The model has been carefully crafted using components designed to last, making this model very low maintenance and cost effective.
MV 10/1H, 45/1H, 20/2H, 50/2H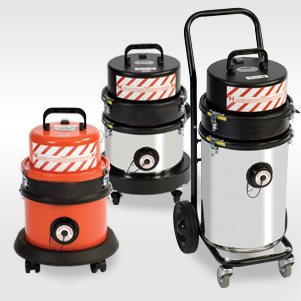 All models 99.995% filtration efficiency
These specially designed Type H vacuum cleaners, protect users from the hazardous dusts and debris in their environment, using a 3-stage filtration process.
Purpose-built to successfully remove hazardous fine particles such as silica, carcinogenic particles, asbestos dusts and high potency pharmaceutical agents, all models achieve a filtration efficiency of over 99.995%.
Users can be assured of a dependable vacuum cleaner that effectively cleans up hazardous particles.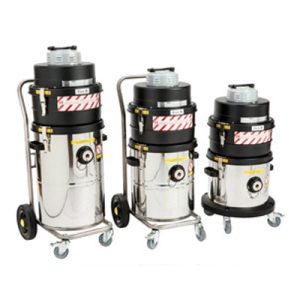 Soft start motors with thermal protection
These MEVA models are all Type H vacuums, specifically designed to vacuum dusts and debris that could potentially be explosive or conductive.
Atex certified for use in dust zone 22, using a 3-stage filtration process, these efficient models pick up hazardous dusts and debris ensuring a safe environment. An additional feature is soft start motors with thermal protection.
ATEX Approved Industrial Vacuum Cleaners
MAV 15-45 & MAV 18-45 W/D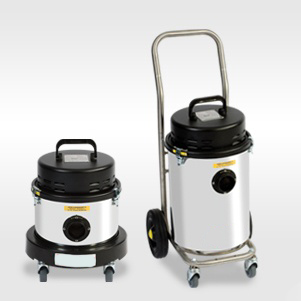 Versatile ATEX vacuum cleaners
Two of Morclean's MAV models offer versatility for industrial vacuuming needs.
The MAV 15-45 for only dry vacuuming or the MAV 18-45 W/D to vacuum dry dust and debris but will convert to pick up non-flammable liquids.
These models can vacuum hazardous particles that would be dangerous to health.  Using compressed air power, they are appropriate for use in Dust Zone 21 & 22 and Gas Zone 1 & 2.
Handheld ATEX certified vac
Light and simple to use, the MAV 2 is a handheld Category 3 air vacuum cleaning gun.
Using compressed air power, the MAV 2 is Atex certified, and can be used in Gas Zone 2 and Dust Zone 22.
Removing a wide range of debris and particles including glass, plastic and metal chippings, swarf, dusts and powders, the MAV 2 will speed up cleaning operations in a variety of premises.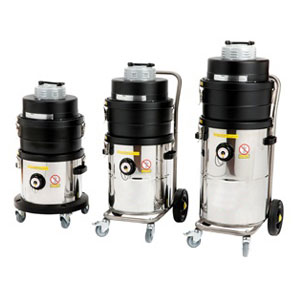 Electric 3-stage filtration for dust zone 22 areas
MEVA 20,30 & 45 are designed for industrial vacuum cleaning where dusts and debris could be potentially explosive or conductive.
Using a 3-stage filtration process, these electric vacuum cleaners can be used in a dust zone 22 area, minimising potential exposure to hazardous particles.
Handheld Maintenance Vacuum Cleaners
PCV1 and PCV2 Handheld Vacuum Cleaners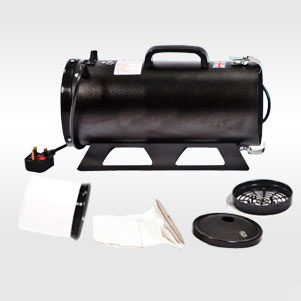 Ideal for maintenance and engineering sectors
Morclean's handheld vacuum cleaners offer great performance in a lightweight quality vacuum cleaner.
Particularly for environments with low hazard materials, the PCV1 and PCV2 models can also convert to a blowing function as well as an option to vary the power/speed.
So easy to use, with a selection of tools, this handheld cleaner is ideal for the maintenance and engineering sectors.