Bin Wash Swift 150
Available in 2 versions. Swift SY150 & SWIFT 150-X


NEW from Morclean, the Bin Wash Swift 150 compact entry-level wheelie bin cleaner. With its new and compact design, economically manufactured and simple single bin lift, the Bin Wash Swift 150 is set to be a market leader in the domestic bin cleaning industry.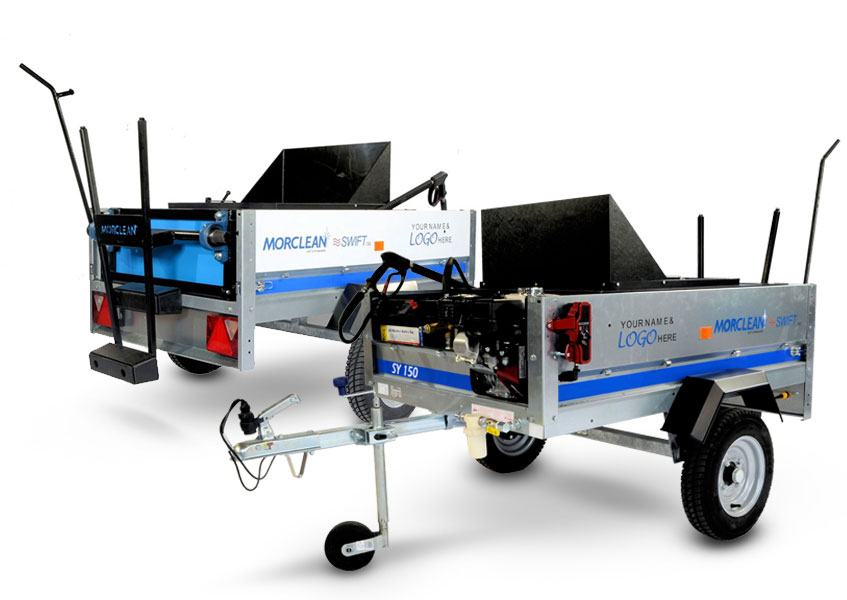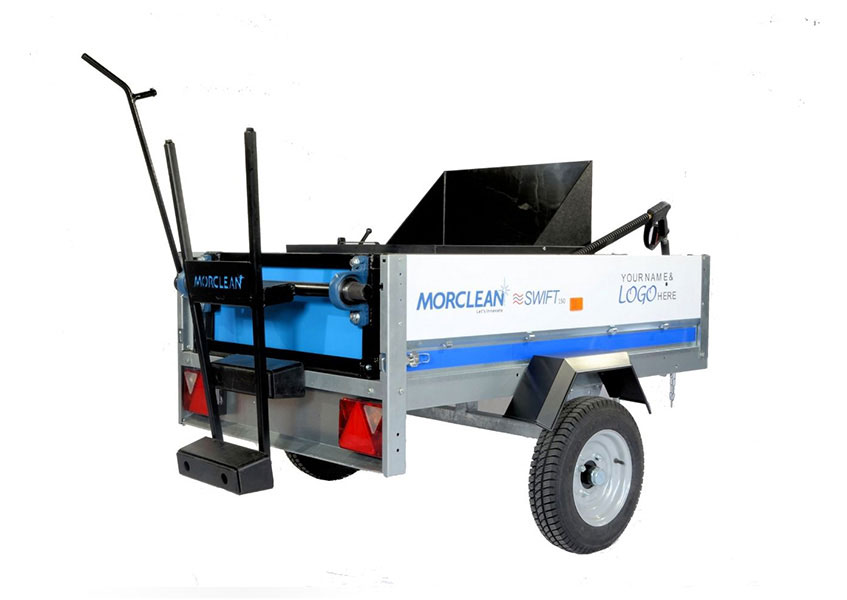 Powder coated frame

Twin braid hose

6 stages filtration

Honda GX (Series 200 engine)

UH series pump

95 bar / 1400 psi

Accubox

battery box with isolator, gauge and 12v charge point

RL30 gun/trigger

1200mm wash lance

Vinyl coated side panels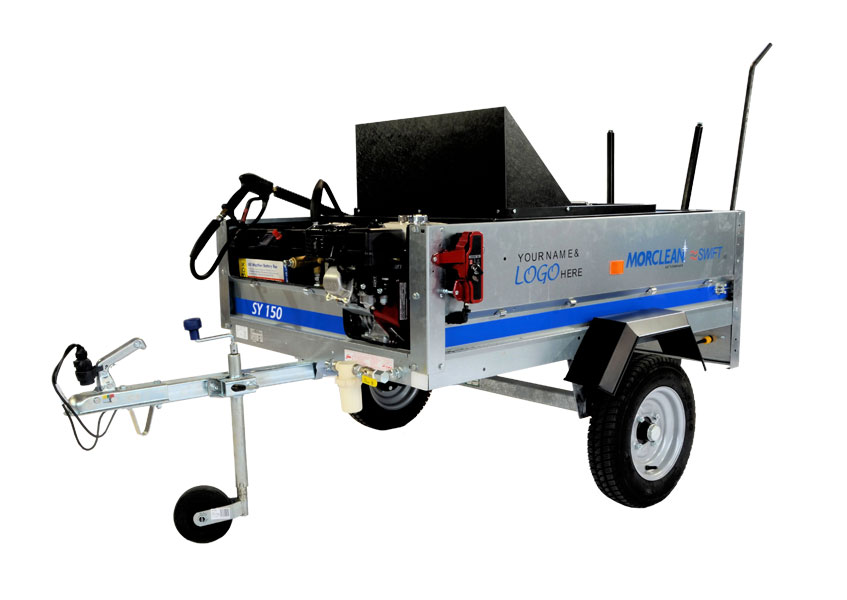 Galvanised frame

Single braid hose

Multi-stage filtration

Honda GX

AR XTY pump

90bar / 1100 psi

Standard battery box

RL20 gun/trigger

900mm wash lance

Galvanised side panels
Bin Wash Swift 150
NEW from Morclean, the Bin Wash Swift 150 compact entry-level wheelie bin cleaner. With its new and compact design, economically manufactured and simple single bin lift, the Bin Wash Swift 150 is set to be a market leader in the domestic bin cleaning industry.
Lightweight, simple to operate, and great value, but packed with features to provide financial returns in the bin washing market, while reducing time and effort to clean and maintain the equipment.
Built on a simple yet sturdy trailer, engineered to fall under towing limits, the Swift 150 is designed to lift and clean single 240 Litre bins or smaller 120 Litre bins, and wash with a powerful jet wash. Water used is then recycled during the day to reduce weight and water tank capacity.
With 4 stages of water treatment and filtration, the machine features some new and innovative designs, all manufactured in Morclean's dedicated R&D and bin wash manufacturing facility – the home of the UK's best selling and award-winning Custom Plus bin wash.
Filta-bed 
The Swift 150 has been designed with the new and unique Filta-bed 2 stage water filter. The easily removable and slimline design provides the operator quick access without catches, bolts or fixings. The 2 stage filter can be easily removed and lifted out to clean.
Easyclean SS Filter
The stainless steel filter is not only rust proof but easily cleaned, and can be rinsed with a hose pipe or under a tap. This reduces any downtime to change or replace filters. The Filta-bed and Easyclean SS filters are both washable and do not need replacing, to save costs.
BLUE+ backwash 
The machine also features an automated backwash system that re-cleans any water held in the tank while the machine is idling and the trigger is closed. This conditions the water between cleans to maintain the standard of water.
The Blue+ filter is also cleanable and doesn't operate with disposable filters, which means the operator doesn't have to pay for replacement filter parts. The Blue+ filter is simply removed, can be rinsed under a tap or with a hosepipe.
Finally, the final pump pre-filter is again easily removable and washable under a tap, to ensure that filters don't have to be replaced or changed, simply rinse after each water change to be ready for the next cleaning round.
Fitted with a high quality and durable HONDA GX electric start engine, with battery and key, and a heavy-duty 2200psi pump fitted with a brass cylinder head and 3 Cylinder ceramic pistons ensuring the best possible reliability.
The manual lift is designed to lift a single 240 Litre bins or a smaller 120 Litre bin, and the wastewater outflows to the catchment tray for re-use. This reduces manual handling or physically tipping the bin to wash and rinse out.
Product Launch
The machine will be launched in Summer 2021 and available for pre-order or from stock, with demonstrations available from that time at our dedicated bin wash workshops. Please call or email for more info.
Promotional Launch
In line with the above, the machine will be promoted at the Cleaning Expo UK in Sept 2021 when you can see a machine on our stand No 1 during the day – click here for more information.
Practical and easy to use
Clean any household wheelie bin up to 240 liters
Lifting mechanism to reduce manual handling
Durable components to ensure a long service life
220L Baffled water tank reduces weight and the need to carry more water
Flatwater tank design for a low centre of gravity
Can be used as a portable pressure washer for driveway, patio, and decking cleaning
Machines allow you to wash bins legally as wash water is contained and recycled as per the EA guidelines
EC/EU approved trailer
Fitted with a heavy-duty battery
Low voltage electrics
Optional Frost protection system using integral filler pipe
High-pressure pump, with a long reach  wash lance
Fast washing process – typically 10-30 seconds for a domestic bin
Very low running costs – economical machine reducing outlay
Superb earnings potential!
Meets and exceeds the new type approval legislation (supplied with a Certificate of Conformity & VIN plate).
Best combination of load space and weight capacity.
light commercial trailer.
145×100 wheels/tyres
2205 x 1340 x 890mm
Internal body dimensions – 145 x 100 x 32cm
Gross Weight – 499kg
Load Weight Capacity – 424kg
Unladen Weight – 75kg
Load space area 1.45m2.
Load space volume 0.46m2
Maintenance-free rubber suspension.
Robust, corrosion-resistant galvanised steel construction.
Recessed lights
Full Manufacturer's Warranty and technical support.
| | |
| --- | --- |
| Engine | Honda GX Electric Start |
| Pump | 3 Cylinder ceramic pistons |
| Pressure | 1800 Psi |
| Flow | 11 Lpm |
| Tank | Poly tank & 0.014mm inner |
| Battery | 100 Ah in box |
| Lift | Manual/single lift of 240 litre bins (household wheelie bins) |
| Electric Start    | Key Switch |
Certificate of Conformity
Morclean Ltd. declares under their sole responsibility that their:
Morclean Wheelie Bin Washing Machines
listed as the following 7 models:
Custom, Custom Plus+, Bin Wash 40, DAILY, SKID, STATIC and City
Comply with the Essential Requirements of the following EU Directives:
Machinery Directive 2006/42/EC
Low Voltage Directive 2014/35/EU
EMC Directive 2014/30/EU
and further conform with the following EU Harmonized Standards as aplicable:
EN 60204-1:2006 + A1:2009
EN ISO 14120:2015
EN 809:1998+A1:2009
EN ISO 4413:2010
EN 61000-6-3:2007+A1:2011
EN 61000-6-1:2007

The Morclean BinWash machines are incredibly easy to use, just fix the wheelie bin onto the lifting mechanism at the rear of the machine and elevate the bin. Cleaning is effortless and the bin can be spotless in seconds.
Once elevated, the Morclean system drains the bin into a catchment tray in one simple process – water is filtered and ready to re-use throughout the day.
The Swift 150 can be used as a standard pressure washer and connected to a mains water supply
Manual single bin lift operation enables the operator to easily clean up to a 240-litre capacity bin (household wheelie bin)
All that is required for a trailer-mounted Bin Wash machine is a vehicle capable of towing 499kg with a standard 50mm ball hitch and an electric trailer socket for the trailer lights
The machine has its  own battery to start the engine, which is charged by the Honda engine
The engine-driven  Bin Wash Custom Plus model has a standard petrol tank fitted
4 stages of filtration, with the 4th stage conditioning water held in the storage tank while the machine is idling between washes. This means that water quality is constantly improved while the machine is in use.
The removable catchment tray takes out larger items of debris
A fine mesh removable screen [80 mesh/177 microns] filters the water
The third filter [20 mesh/871 microns] is situated just before the pump
Water in the holding tank passes through a 'blue' washable filter [100-micron nylon mesh]#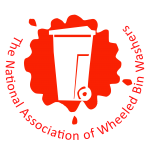 The National Association of Wheelie Bin Washers represents those wheelie bin washing companies that are able to satisfy the associations entry criteria, which requires them to comply with all existing legislation and guidelines for the washing of bins using high pressure pumps.