DOFF Steam Cleaner
DOFF Skid Mount steam cleaner, compact design housed in a heavy duty tubular frame.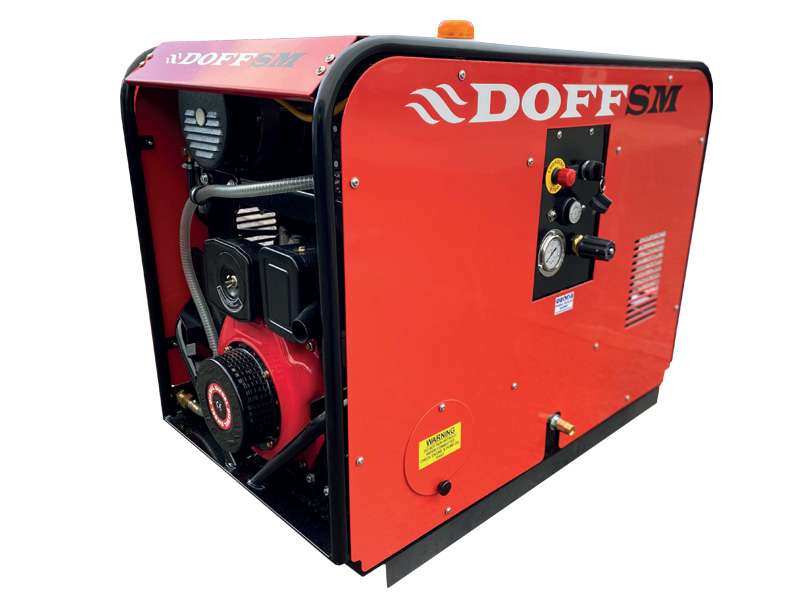 Skid Mount steam cleaner
Morclean are delighted to be exclusive partners for the DOFF Skid Mount steam cleaner. The compact design is housed in a heavy duty tubular frame and benefits  the operator with a faster set up time than coupling together individual units.
The skid mount system is made up of the DOFF heating unit and an engine driven pump, to provide a compact and self-contained unit. The combination steam cleaner can therefore be easily van mounted or fitted to a trailer, and Morclean provide numerous options of trailers, bowers, water tanks and can configure with any available capacity and configuration
The DOFF Skid Mounted exactly matches the low volume 5 litres per minute of water consumption, along with high powered 120 bar of pressure, to give the operator, contractor or end user the same results, spec and performance as a traditional DOFF set up.
However, in general, skid-mounted steam cleaners are industrial-grade cleaning machines designed for heavy-duty applications. They are commonly used in commercial and industrial settings for tasks such as degreasing, disinfecting, and deep cleaning. Skid-mounted steam cleaners are often portable and can be easily transported to different locations as needed.
Steam cleaners utilise high-pressure steam to effectively clean surfaces. The high-temperature steam helps to dissolve dirt, grease, and grime while sanitizing the area being cleaned. Steam cleaning is known for being an environmentally friendly method as it often requires only water and does not involve the use of harsh chemicals.
Complete with a selection of hoses, lances and nozzles, the self contained steam cleaner is ready to work and can be used with a water tank, bowser or mains water supply.
| | |
| --- | --- |
| Mass | 210kg |
| Length | 1100mm |
| Width | 600mm |
| Height | 900mm |
| Flow Rate | 5L per minute |
| Output Temp | 150°c |
| Pump Pressure | 20-120 bar |
| Noise Level | 95.4 db Max |
| IP Rating | 23 |
| Heater Output | 74kw |
| Fuel | Deisel Only |