Ride On Scrubber Dryers: MSD1000R
The Morclean MSD1000R is an extra large, ride-on scrubber dryer. With features such as an forward and reverse electric traction, auto-squeegee operation, automatic brush engagement and flashing safety beacon in order to warn pedestrians to minimise accidents. The scrubber dyer comes with ball valve for quick drainage of dirty water and emergency stop button. Speed up production and reduce cleaning time with this easy to use, robust machine.
Ideal for; Factories, Large Workshops, Industry, Shopping Centres, Warehouses, Large Retail, Distribution & Supermarkets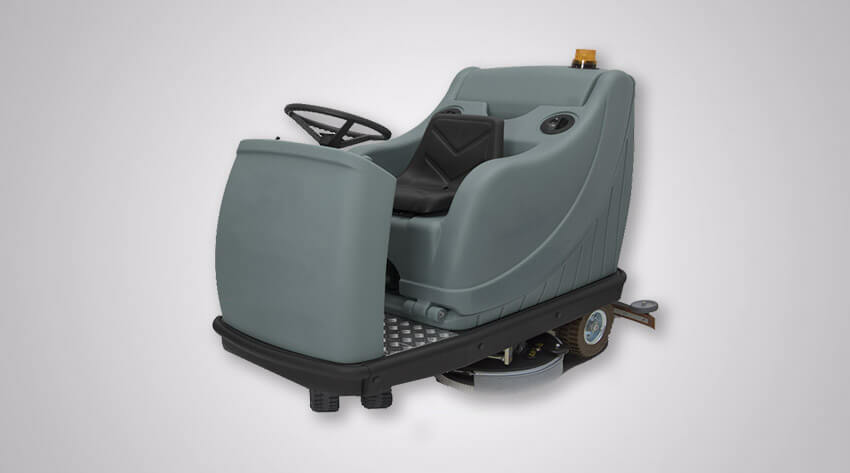 The Morclean MSD1000R comes with the below as standard:
• Heavy-duty Polyethylene tank construction
• Forward & reverse electronic traction
• Robust front & rear traction wheels
• Large heavy-duty steel brush head
• Brush & drive motors with lifetime lubrication
• Electronic adjustable speed control
• Ergonomic control panel with safety controls
• Heavy-duty cast aluminium squeegee assembly
• Easy access to the solution tank for refilling
• Ball valve for quick dirty water drainage
• Water & detergent control lever
• Forward & reverse control lever
• Electronic battery indicator
• Adjustable seat
• Complete with PPL brushes,
Technical Specifications
MSD1000R
Scrubbing Width 1000mm
Squeegee Width 1150mm
Cleaning Performance 5500m²/hour
Solution Tank Capacity 190lt
Recovery Tank Capacity 192lt
Brush Size 2 x 500mm
Brush Pressure 50 – 100kg
Brush Motor 1 x 36v, 1800 watt
Suction Motor 2 x 36v, 600 watt
Drive Motor 1 x 36v, 600 watt
Drive System Forward and Reverse
Speed 5km/h
Battery System 6 x 6v, 425ah Wet Batteries
Weight (withBatteries) 850kg
Dimensions (LxWxH) 180 x 105 x 145cm
Train & Subway Stations
Train and subway stations can endure thousands of foot steps each day. The floors can gather a build up of all sorts of dirt, grime and debris that can be hard to clean. The powerful MSD500T big can scrub through build up and make station tiles spic and span!
Educational Institutes
Schools, Colleges and Universities typically require a more frequent cleaning regime, due to a lot of footfall, every minute of every day. The Morclean 500B keeps up with this busy industry and provides the user with a simple to use, easy to maneuver scrubber dryer whilst giving a high standard of cleaning.
Slate Cleaning
Slate floors can be difficult to clean. This heavy duty, large machine from Morclean is perfect for removing any stains, dirt or discolouring from concrete floor surfaces with ease.