Pedestrian Scrubber Dryers: MSD430B
Modern and compact, this battery powered pedestrian scrubber dryer boasts a scrubbing width of 430mm/17″. Perfectly designed to clean areas in shopping centres, leisure facilities or corridors where access to mains power is difficult. The MSD430B battery powered pedestrian scrubber dryer has an industrial build quality, is highly manoueverable and has 'easy to use' controls.
Ideal for applications in areas such as: warehouse, production areas, distribution centres, factory environments, airports, shopping centres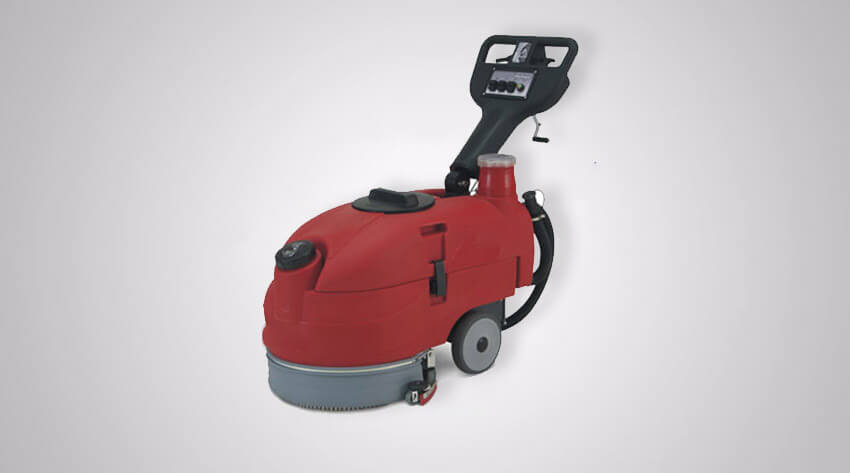 The Morclean 430B comes with the below as standard:
Reinforced polyethylene chassis & tank construction
Brush assisted traction
Polyurethane coated rear wheels
Brush motor with lifetime lubrication
Ergonomic control panel with safety switches
Steel squeegee body with polyurethane squeegee blades
Simple switch controls
Easy access to the solution tank for refilling
Dirty water drain hose
Water solenoid switch
Brush and suction switches
Adjustable control valve for water and detergent
Manual brush & squeegee lifting operation
Complete with PPL brush, 2 x wet batteries and battery charger
Technical Specification
MSD430B
Brush Size 1 x 430mm
Brush Pressure 30Kg
Cleaning Performance 1200m2 per hour
Drive Motor Manual
Drive System Brush Assisted Traction
Power System 2 x 12v 90ah Wet Batteries
Brush Motor 24v 375W
Suction Motor 24v 350W
Product Weight 97kg
Total Scrubbing Width 430mm / 16″
Squeegee Width 600mm / 23″
Solution Tank Capacity 20L
Recovery Tank Capacity 22L
Dimensions LxWxH 88 x 60 x 67cm
Warehouse Cleaning
The Morclean 430B is a lightweight and compact scrubber drier. Perfect for small warehouse cleaning when floors need cleaning frequently and quickly without leaving any wet residue and making it safe to carry on working on.
Health Industry
This lightweight and easy to maneuvre scrubber dryer is perfect for use in hospitals where hygiene and safety are the highest priorities. This machine cleans up tough to move dirt and debris whilst vacuuming any left over residue, making sure it's safe to walk on after cleaning.
Poolside Cleaning
Keeping areas around public pools clean and hygenic is imperative. This machine easily removes ground in dirt from tiles whilst also vacuuming any left over dirty water, so the area is clean and safe to walk on. This minimises any accidents of slipping on residue.