Vehicle Mounted Van Packs
As well as our range of mobile, stationary and trailer mounted cleaning equipment, Morclean also provide a complete fit-out service for van packs, vehicle-mounted hot and cold pressure washers, as well as van-mounted steam cleaners and soft washing machines.
The Morclean van packs are all designed, fabricated and installed 'in-house' at our dedicated manufacturing and R&D facility, where clients can bring their vehicle to be fitted out.
Machines can be built to order on a bespoke basis, or more simple solutions are based on otherwise standard equipment that is fitted to a van or flatbed. Our design through to build service means specialist contractors can discuss their needs with our team so that we can provide a niche and purpose-built system.
Typical Van Packs include;
Hot water high pressure
With a range of engine-driven models, typically 100-300 bar pressure (1500 – 4500psi) with integral water heating and electric start engines, frame-mounted and fitted inside the vehicle.
Coldwater jet wash units
Providing operators with a mobile high-pressure cleaner, typically 100-700 bar pressure (1500 – 10,000psi) for high pressure jetting and surface preparation.
Low volume – high-temperature steam
With water consumption as little as 5 Litres per minute, higher temperatures of pressurised steam for soft washing, graffiti removal, and building cleans etc.
Specialist
Morclean also provides hybrid and specialist systems, while working in their R&D facility to produce new and innovative battery-powered, super silent or niche products where an operator has a specific application or need.
Water tanks
All systems can be fitted with a baffled water tank to any capacity (to suit the payload of the vehicle) with options of flat or upright water tanks making the best use of the available space.
Fitting out and options
Any configuration of cold, hot water, or steam, can be fully installed with a flue outlet for fumes, external switching on the outside of the vehicle, fully integrated pipework, quick release connections to the inlet water or high-pressure outlet.
Our facility
The R&D and manufacturing workshops contain 'in-house' design, prototyping and testing, fabrication and manufacturing, right through to installation and handover. There is a parking and waiting area is available to clients, as well as a viewing area for any fit-outs that are installed over a longer period of time, for eg one week.
Typical applications
Our clients have included contractors washing and cleaning service areas and petrol stations, facade and building cleaners, mobile car wash and contract cleaners, graffiti removal firms, chewing gum removal businesses and much more.
Van Pack Accessories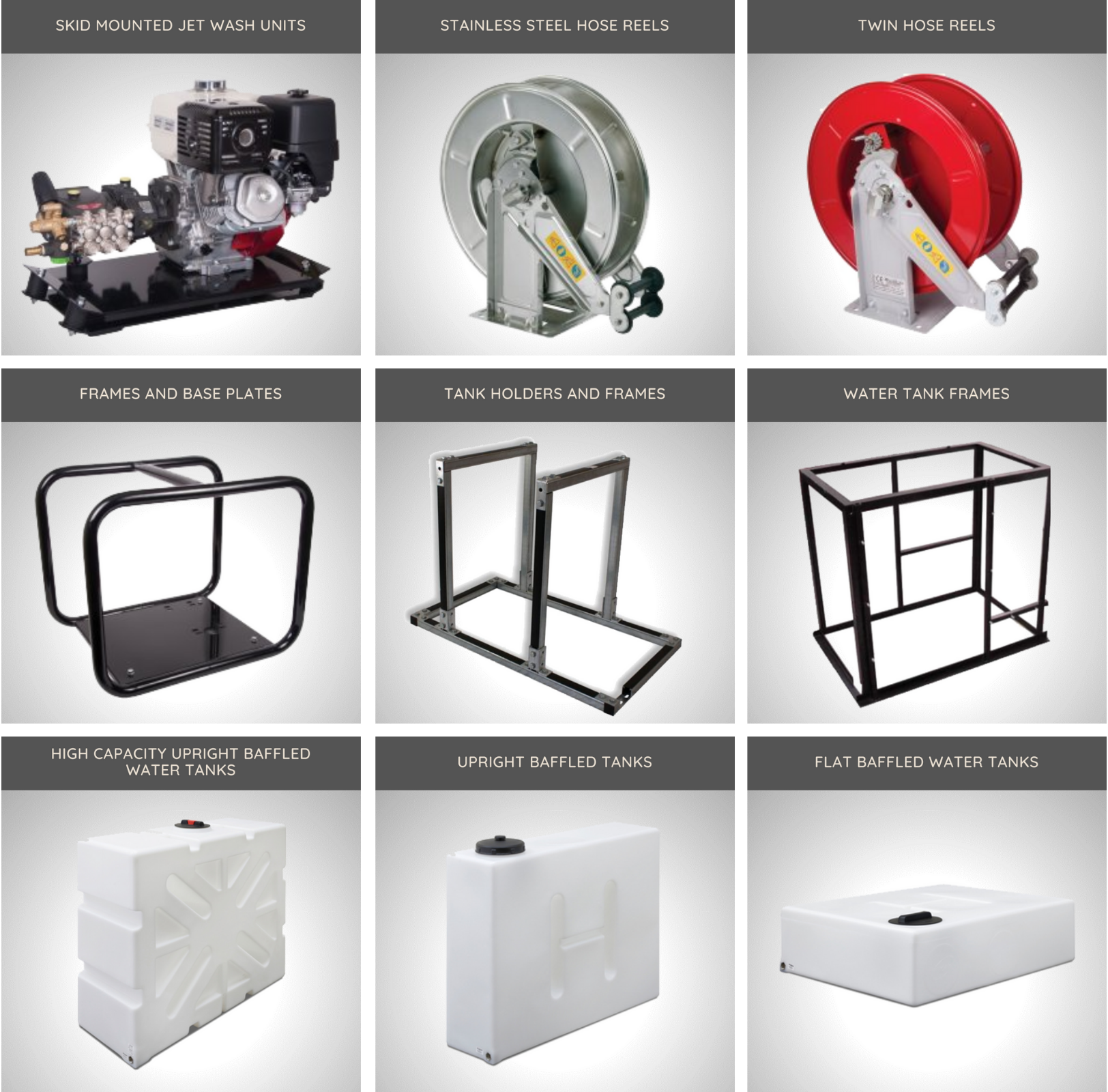 Please note: there is a National shortage of baffled water tanks. We advise you to contact Morclean for current lead times for all van packs, installations and tank based fit-outs.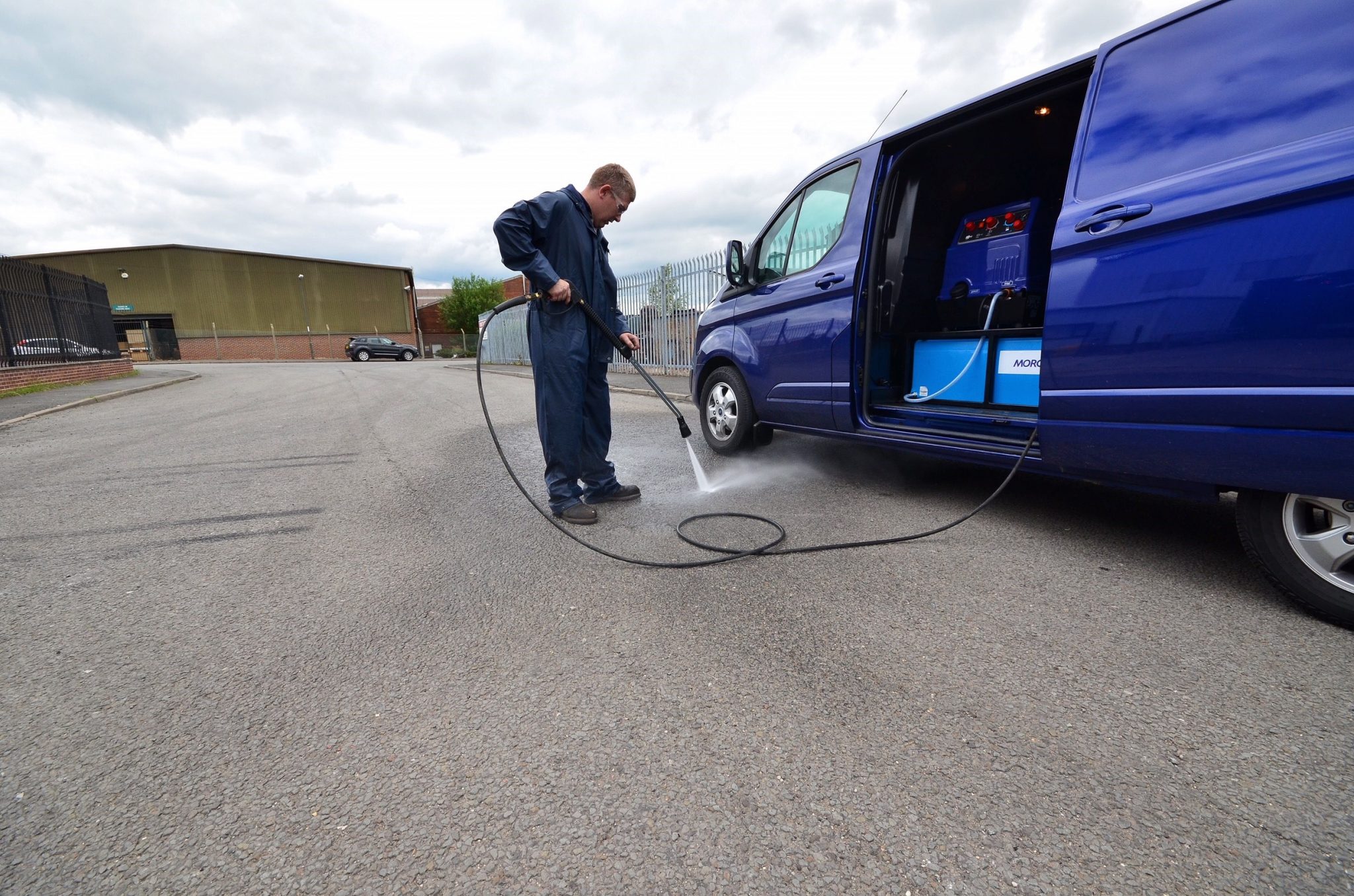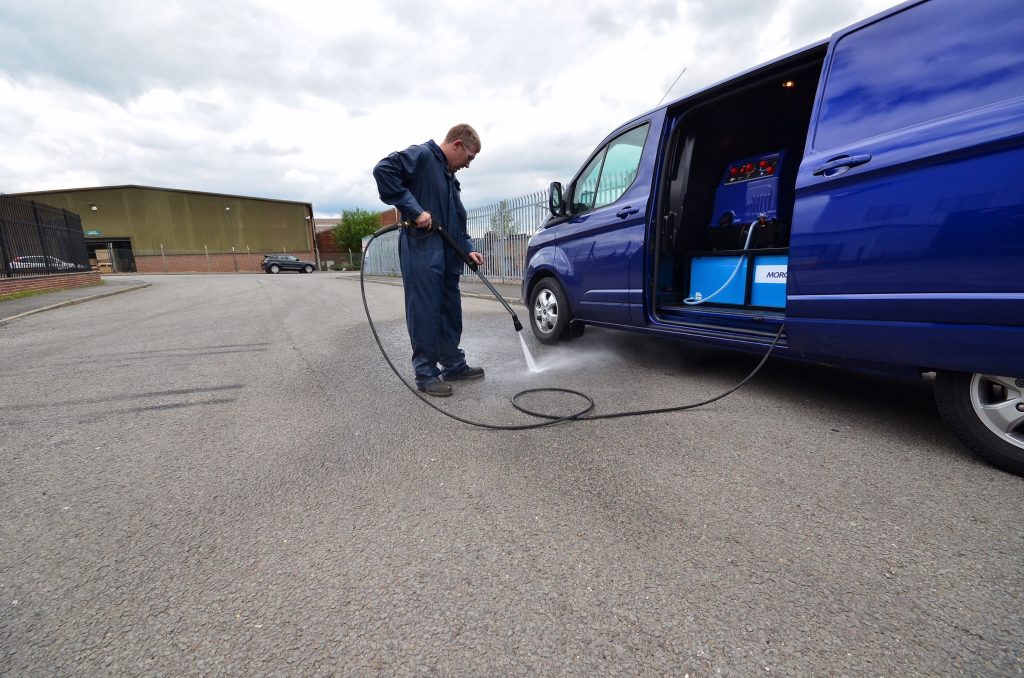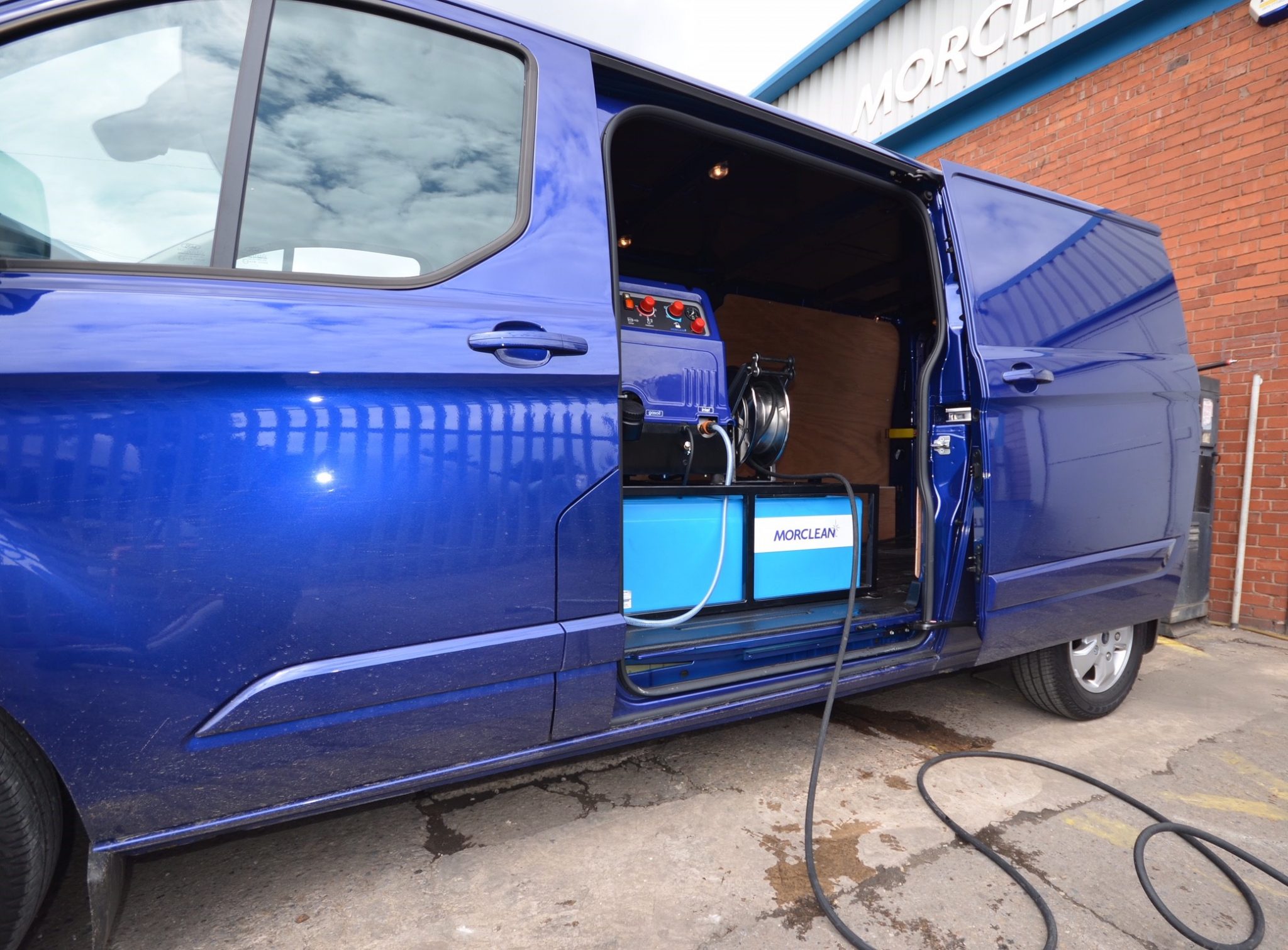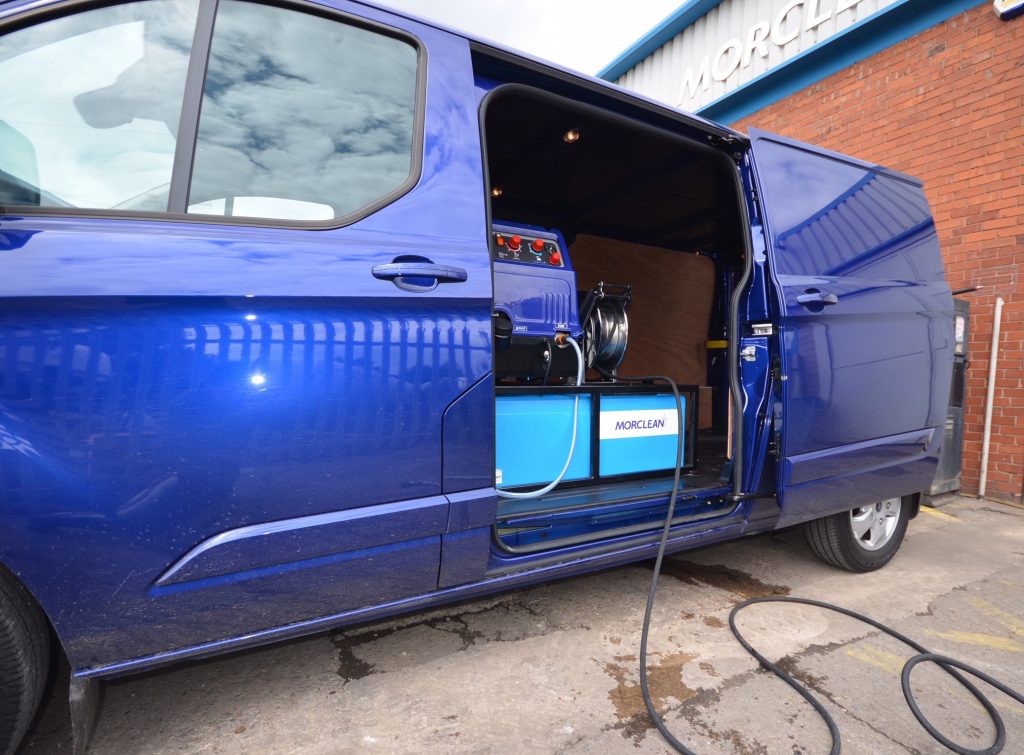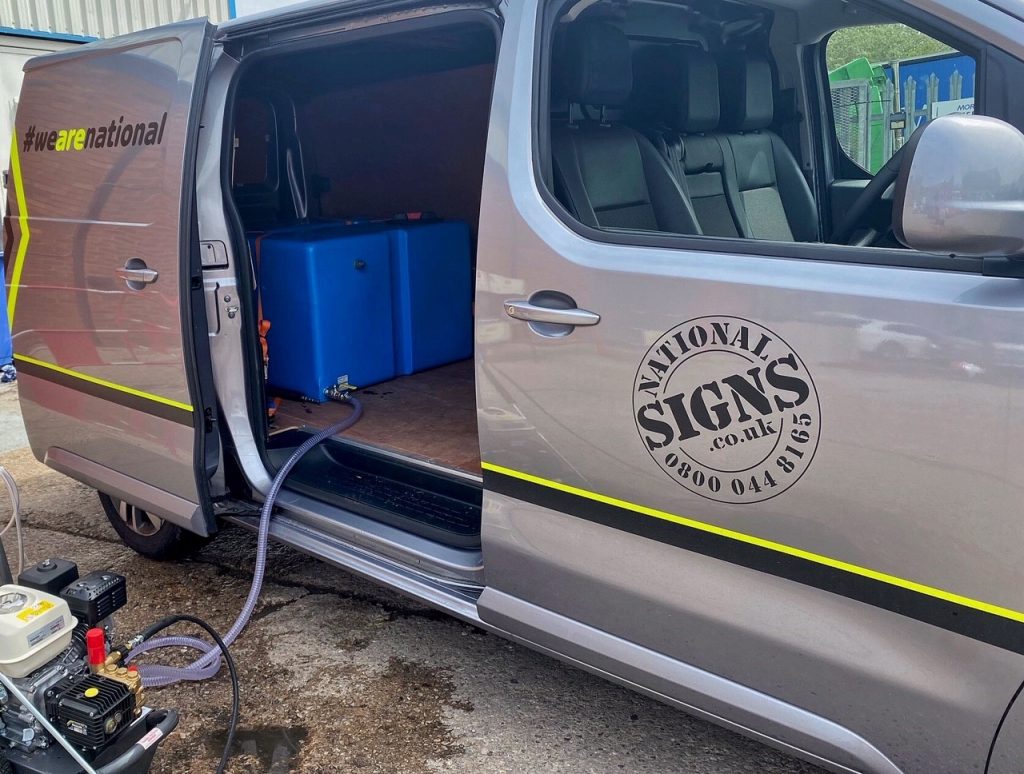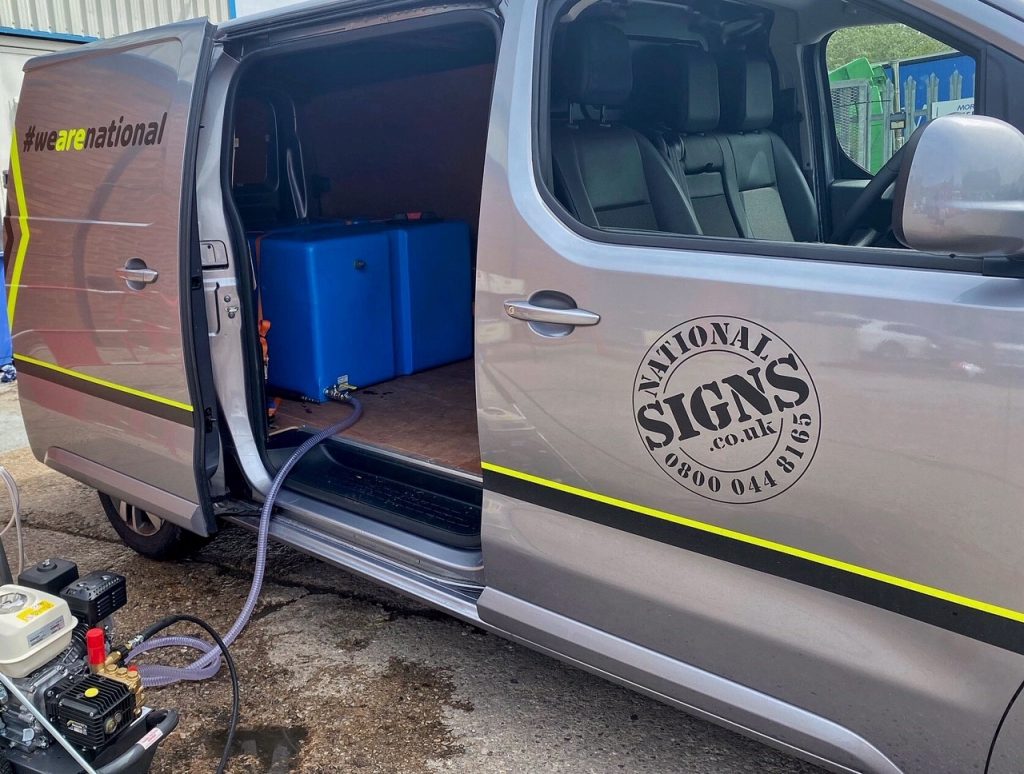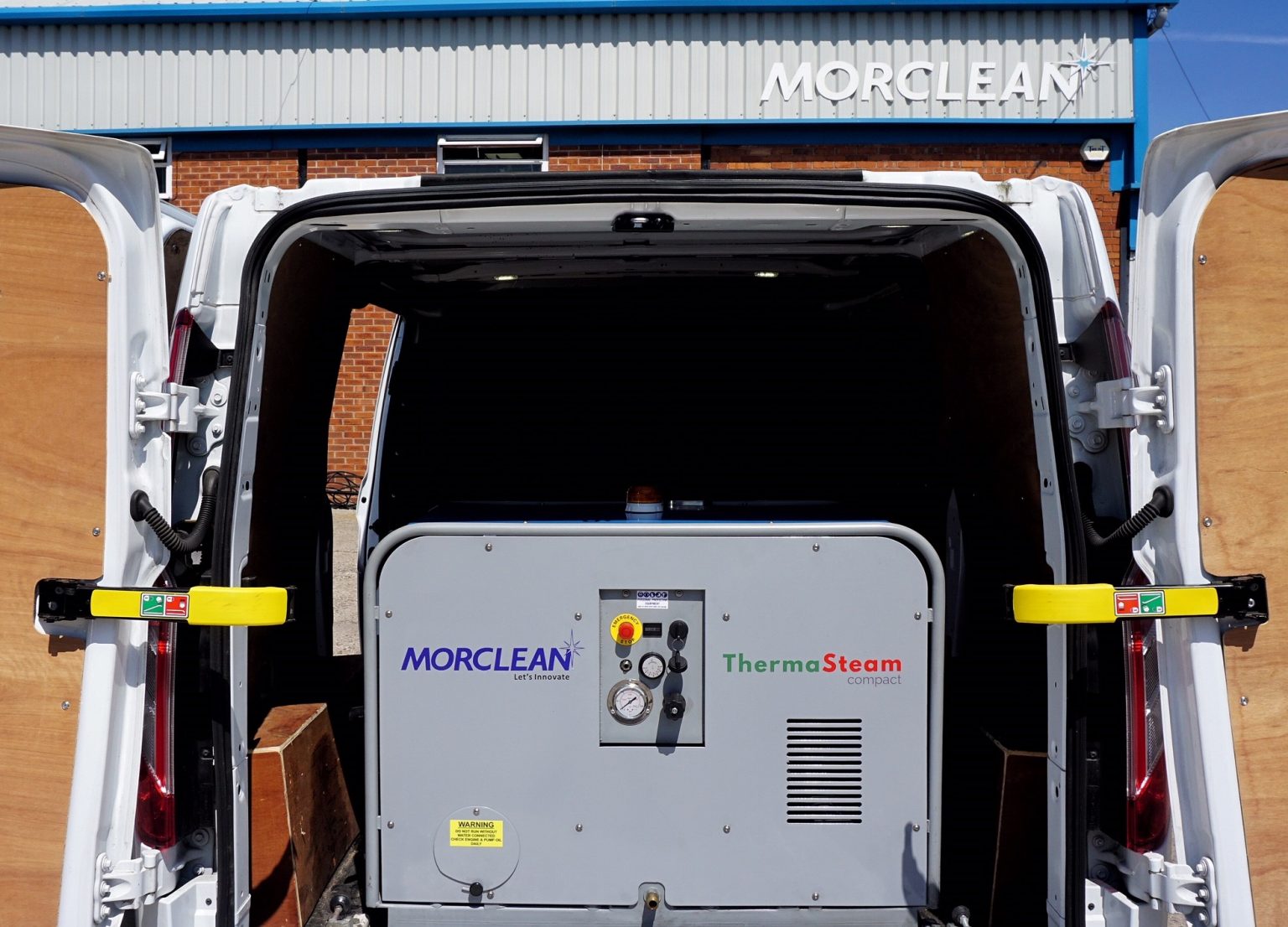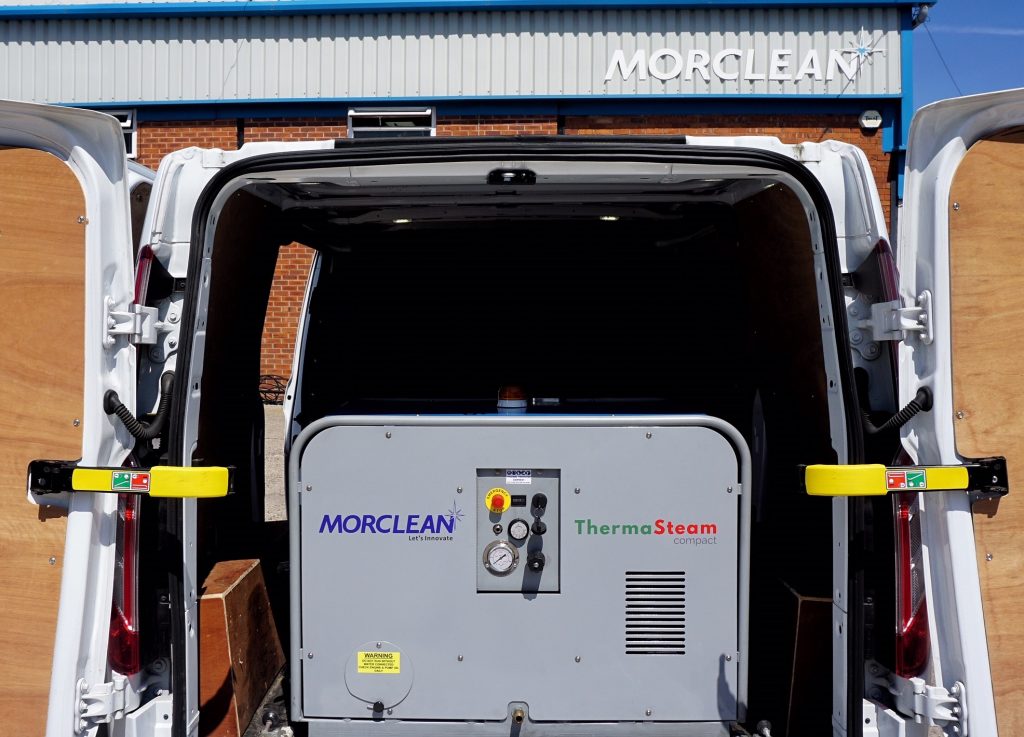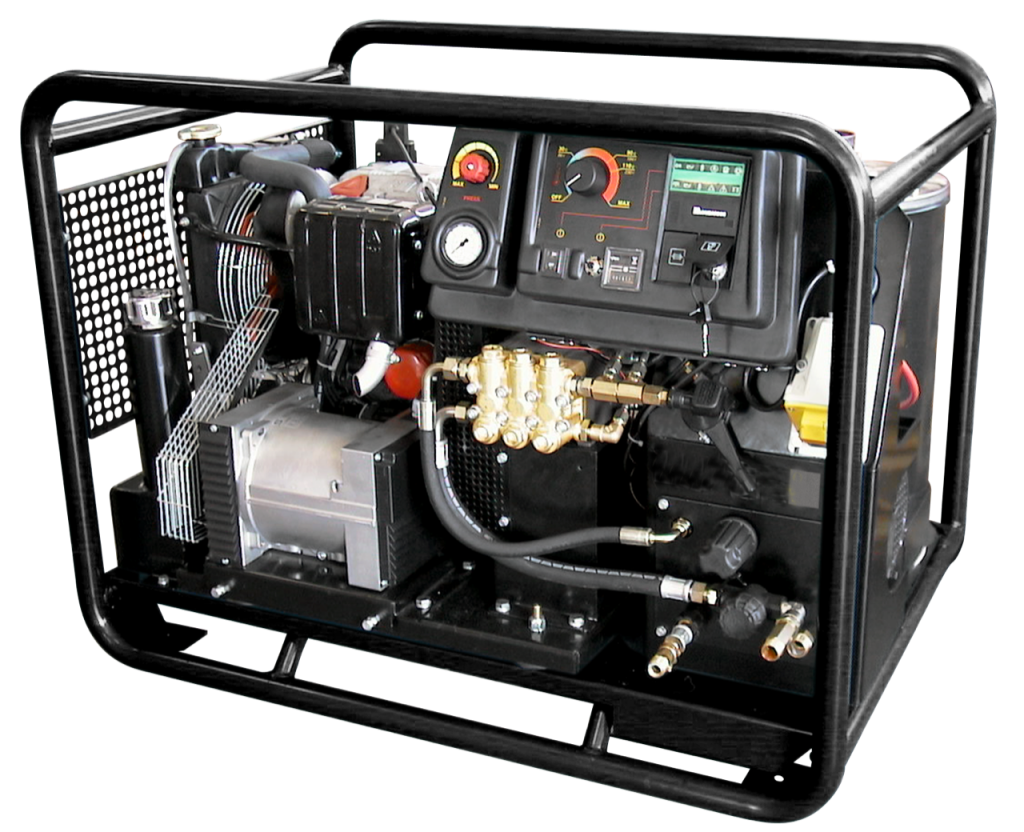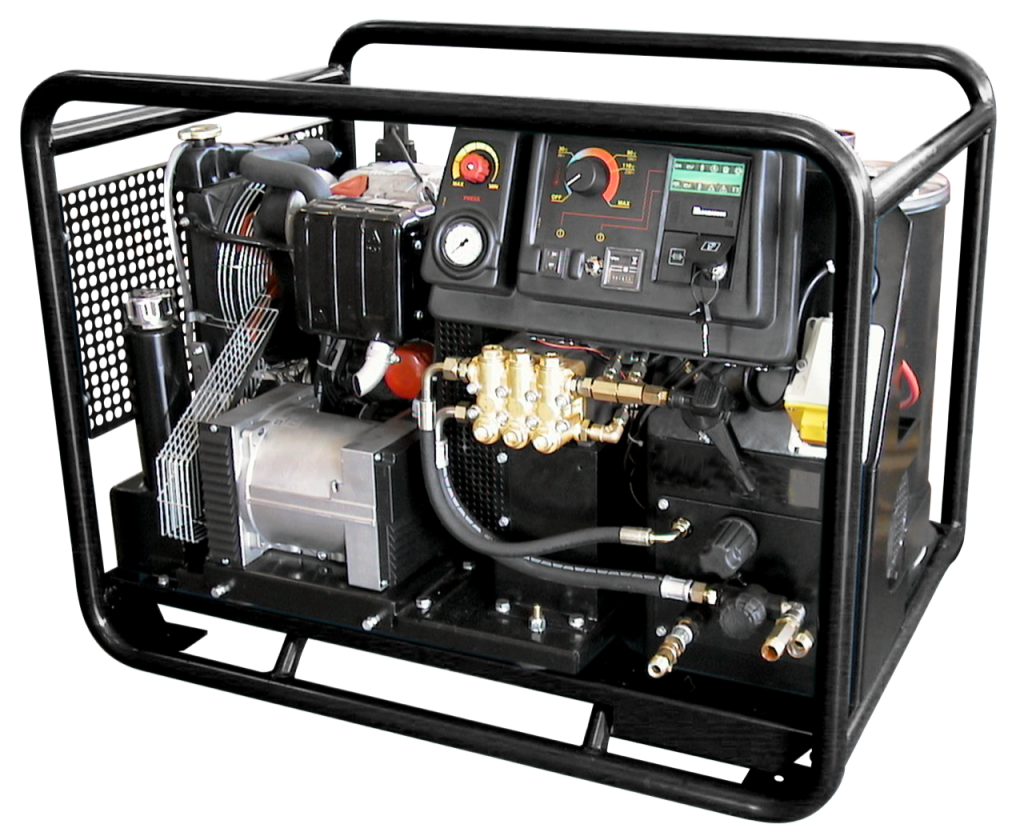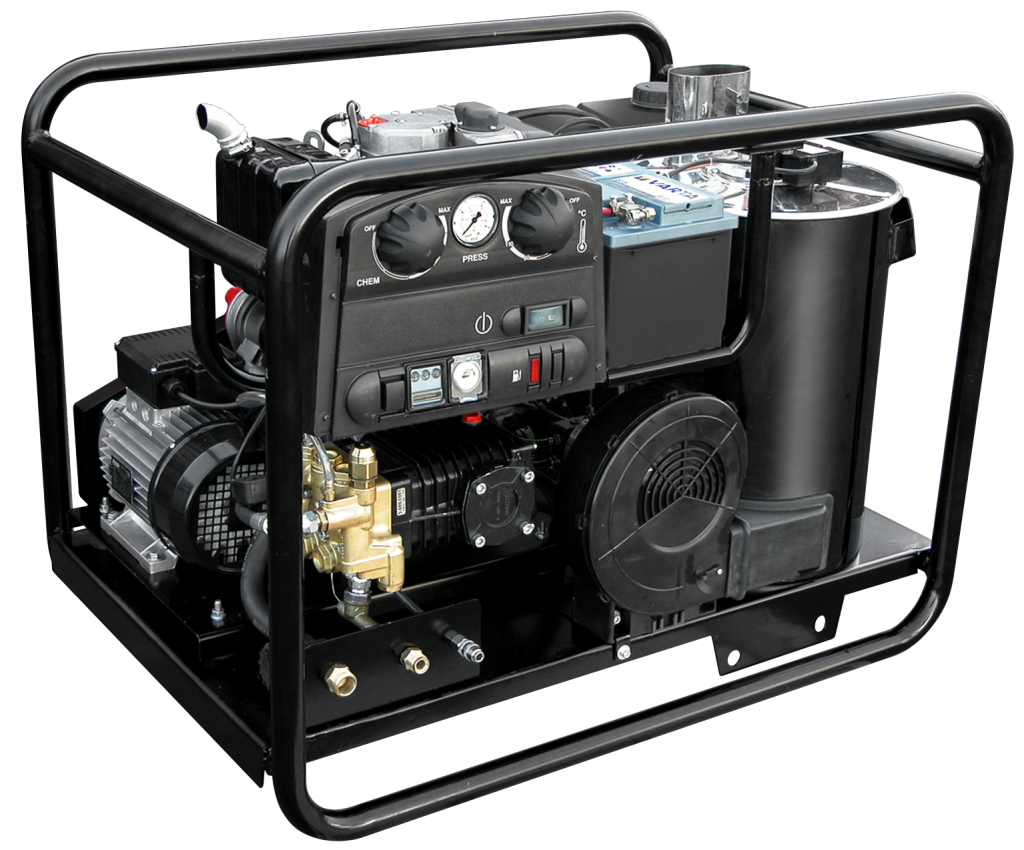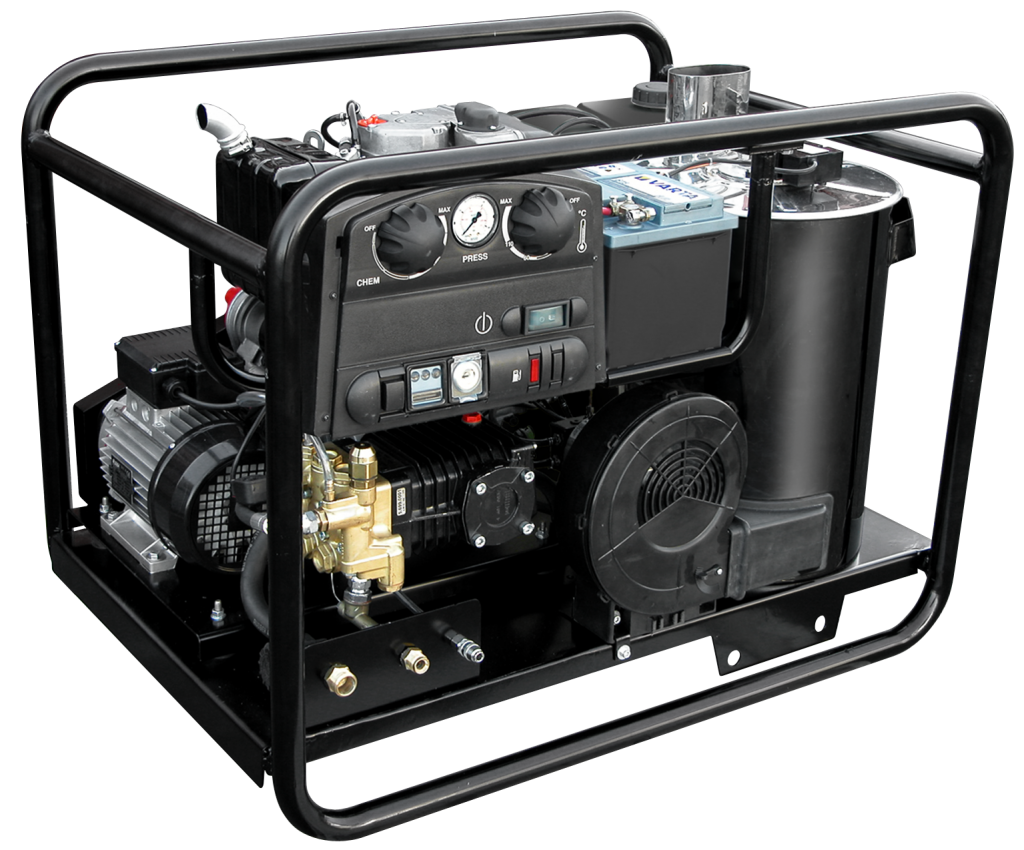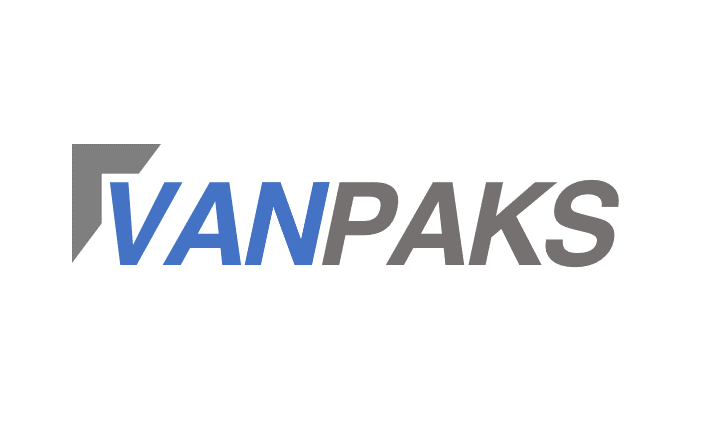 The Morclean Van Pack Mounted Steam Cleaning System is a revolutionary way of running your business from the back of a van…
Empty tab. Edit page to add content here.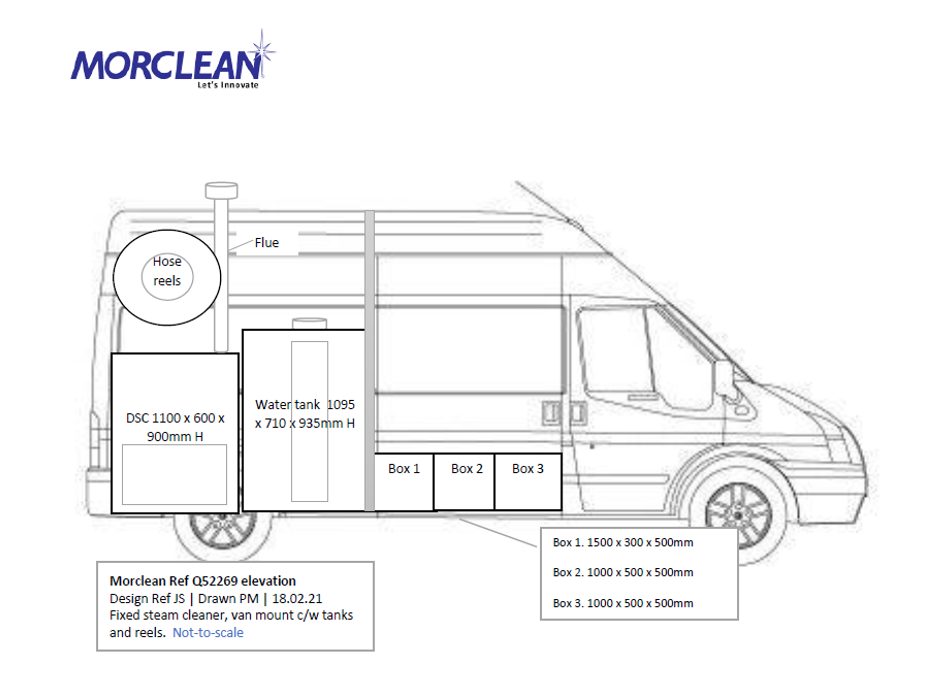 Paint Removal
Removing paint has never been easier thanks to the Morclean ThermaSteam. Blast away paint from bricks, concrete, natural stone and more with ease, without damaging the surfaces, which is more likely with a traditional pressure washer.
Chewing Gum Removal
Ground in chewing gum can be an unsighly nuisance. The ThermaSteam from Morclean removes even the toughest, ground in, old chewing gum with ease and without just flipping it.
Graffiti Removal
The ThermaSteam easily removes resistant graffit quickly and efficiently whilst using much less water than a traditional pressure washer as well as eradicating the need for any solvents or chemicals that could be potentially harmful.
What surfaces should I use a Vanpack Steam Cleaner on?
We recommend the Vanpack steam cleaner for use on surfaces such as brick, stone, concrete, tiled (glazed and encaustic), wood, faience and terracotta.
What are Vanpacks most effective in removing?
Paint coatings (most oil and plastic types)
Certain types of graffiti
Bird or vermin fouling
Algae, moss, and fungi
Wax coatings
Chewing gum
Bitumen, Oil, Grease and many others, all without causing any damage or disfiguring the substrate.
Where can I use a Vanpack steam cleaner?
The Vanpacks can be used in:
Building restoration
Industry
Food production
Hygiene control
Hospitals
Factories
Transport & Vehicle depots, Workshops etc.
Here are some more products you may like