Daily Wheelie Bin Wash Machine
Bin cleaning made easy
Our petrol powered Daily Wheelie Bin Wash Machine provides a cost-effective gateway into the lucrative bin washing market. They are built to be easy to use and maintain. Simply place the bin on the lift mechanism, press the button to lift, clean out the bins whilst elevated with the attached pressure washer system and lower the bins with the button. Bin cleaning made easy. 
An entry-level machine within the Morclean range that features 3-stages of standard filtration. This 'no-frills' machine is the most recent bin wash to join the range and is ideal for general cleaning applications. The Daily Bin Wash has been purpose-built to meet market demand.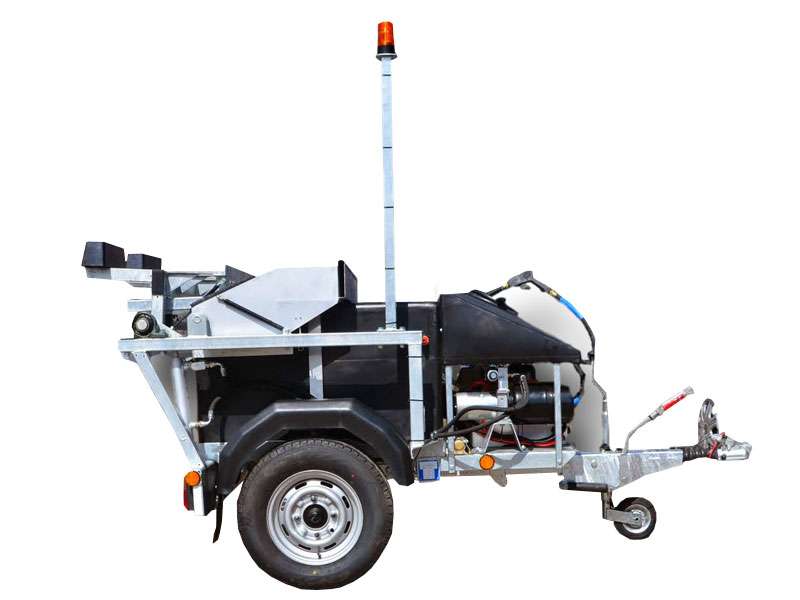 Practical and easy to use
Can lift hinged bins
Clean either two domestic bins at a time, or one commercial bin
Effortless two-bin lifting mechanism at the touch of a button
Galvanized heavy-gauge steel chassis and durable components to ensure a long service life
Baffled water tank of recycled water, for a full days work
Flat water tank design for a low centre of gravity
Can be used as a portable pressure washer for driveway, patio and decking cleaning
Machines allow you to wash bins legally as wash water is recycled as per the EA guidelines
EC/EU approved trailer
Fitted with a heavy-duty battery
Fully protected low voltage electrics
Frost protection system using integral filler pipe
High pressure pump, with a long reach 1.5 metre wash lance
Fast washing process – typically 10-30 seconds for a domestic bin
Very low running costs – typically about £1.50 per day (including petrol, disinfectant etc.)
Superb earnings potential!
| | |
| --- | --- |
| Model: | Bin Wash Daily |
| Filtration: | 3 stage standard |
| Tyres: | 165 x 13 |
| Ram: | Single |
| Tank: | Standard black |
| Galvanised frame | Interior/exterior |
| Engine size: | Honda 5.5HP |
| PSI: | 1500 |
Certificate of Conformity
Morclean Ltd. declares under their sole responsibility that their:
Morclean Wheelie Bin Washing Machines
listed as the following 7 models:
Custom, Custom Plus+, Bin Wash 40, DAILY, SKID, STATIC and City
Comply with the Essential Requirements of the following EU Directives:
Machinery Directive 2006/42/EC
Low Voltage Directive 2014/35/EU
EMC Directive 2014/30/EU
and further conform with the following EU Harmonized Standards as aplicable:
EN 60204-1:2006 + A1:2009
EN ISO 14120:2015
EN 809:1998+A1:2009
EN ISO 4413:2010
EN 61000-6-3:2007+A1:2011
EN 61000-6-1:2007

The Morclean BinWash machines are incredibly easy to use, just fix the wheelie bin onto the lifting mechanism at the rear of the machine, press one button and the bin is lifted. Cleaning is effortless and the bin can be spotless in seconds.
Once elevated, the Morclean system drains the bin into a catchment tray in one simple process – water is filtered and ready to re-use throughout the day.
The trailer systems can also be used as a trailer-mounted pressure washer direct from a mains water supply, for driveway, paving, and decking cleaning, providing extra revenue. The trailer-mounted machines are portable so that your vehicle isn't dedicated to this system and can be used for other duties.
All that is required for a trailer-mounted Bin Wash machine is a vehicle capable of towing 800kg with a standard 50mm ball hitch and two electric trailer sockets – one for the trailer lights and one for the power.
The trailer models have their own battery to start the engine and work the bin lift, which is topped up by the Honda engine and charged by the vehicle from the socket. If no socket is available, then the machine can run up to one week off the battery. The fixed machine uses an electrically operated 110v motor and low voltage controls for safety.
The engine-driven  Bin Wash Custom Plus model has a standard petrol tank which can last up to one week if cleaning up to 100 bins per day.
All of our machines come with a built-in water filtration system. This helps eradicate bacteria from the water tank, tackle unpleasant-smelling water, and also to give the user cleaner water throughout the day.
The Daily BinWash comes with a 3-stage water filtration system:
The catchment tray takes out larger items of debris
A fine mesh screen [80 mesh/177 microns] filters the water
The third filter [20 mesh/871 microns] is situated just before the pump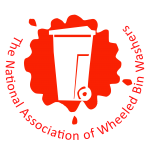 The National Association of Wheelie Bin Washers represents those wheelie bin washing companies that are able to satisfy the associations entry criteria, which requires them to comply with all existing legislation and guidelines for the washing of bins using high pressure pumps.