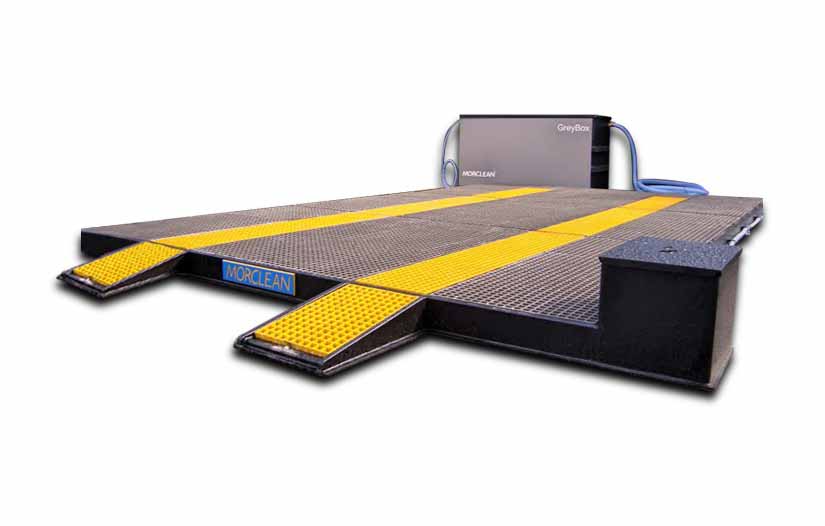 The permanent surface mounted wash pad is a sealed bund made from a mixture of welded plastics and fibreglass panels, making a solid, impermeable and dedicated liquid containment area for tough applications.
The new Washman Permanent Surface Mounted Wash Pad is typically used in heavy duty environments for longer periods, or where there is a need to wash higher volumes of vehicles.
The wash pad will therefore satisfy current legislation for the containment and disposal of water from a wash bay, namely that it is a dedicated, isolated, kerbed, and impermeable surface that contains all the contaminated waste water.
The wash mat is a surface mounted system which means the operator can avoid excavation or the need to have any items installed below ground. This is ideal for leasehold or sensitive sites such as a multi storey car park where ground works are not practical.
The Morclean permanent wash pad is made from a mixture of rigid fibreglass panels and welded plastics. The wash mat is therefore is a sealed bund that will replace traditional concrete wash pads.
The wash pad avoids excavation and civil works, and there are virtually zero builders works, disturbance to the ground. Our team can generally install a wash pad within hours with minimal fuss or inconvenience.
The wash pad is fitted with ramps for vehicle access and is built in sections so it can be more easily transported and installed. The wash mat is available in 5x3M and 6x4M standard sizes as well as other bespoke dimensions.
The external gratings are easily removed for cleaning and maintenance, and the Morclean wash bay is manufactured at just 100mm height to prevent accidental damage should the vehicle not enter or exit using the provided ramps.
The Wash Pad captures all the water into a drain and a surface mounted sump pump which can be discharged to foul, partially treated via a Morclean BlueBox or GreyBox, or pumped to a water reclaim system.
The wash mat can also be used in conjunction with the Morclean Pump Station which is a surface mounted device housed in a kiosk that collects water from the outlet of the wash pad and then pumps it to the drain.
A traditional concrete wash pad is costly and not always possible to install where the land is Leasehold. The WashMan fixed wash pad can be installed in hours.
The water-tight wash bay has been further developed by Morclean in response to market demand, for heavier and frequent use where an inflatable temporary solution is not the most effective method.
When a car washing or vehicle washing business or company currently produces wastewater in one way or another, it has to be contained and possibly recycled or removed.
Rather than build a permanent facility (which often requires substantial investments and is not always an economical solution) the permanent wash pad with fixed kerbs offers an alternative to this. The receptacle is semi portable and easy to install within hours of delivery.
In addition, the receptacle can be supplied to meet your specifications in terms of dimensions and design, etc, Morclean provide a bespoke service for individual and unique applications.
Unlike a traditional concrete structure, which takes weeks to construct, the wash pad water capture system is installed quickly and with minimal disturbance to the ground.
The wash pad is supplied with a drain to one end of the pad as standard or can be supplied as a complete water tight retainer.
Wash Pad Specification
Item
Specification
Permitted Weight
Specifically designed to support the weight of the heaviest vehicle or item of plant on the fleet
Designed Weight
Designed to support a max permitted Kg over a determined mm of span and/or the required Kg/m2
Capacity
A determined mm to the required span for the throughput of vehicles and the Kg/m2
Colour
Grey and yellow
Feature
Fibreglass gratings to make a solid liquid containment tray generally 5m x 3M or 6M x 4M
(other sizes available)
Maintenance
All gratings removable for ease of servicing maintenance and cleaning
External
Fitted with low profile external raised kerb approx. 100mm high (to prevent accidental damage if vehicles drive off the ramps)
Overall Dimension
5M x 3M or 6M x 4M Standard
(other sizes available/as requested)
General Permanent Surface Mounted Wash Pad Operation
The rigid permanent mat is positioned after delivery and installed with suitable fast fix bolts to fix to the floor (Morclean provide delivery installation and transportation using their internal transport).
If using a drain and pump the site does not require any excavation and Morclean can supply all items to be surface mounted.
Then simply drive the vehicle on to the wash pad and you have a fully fitted wash pad at a fraction of the cost, disturbance and time. We can design and manufacture to any practical size.
The wash platform will not be damaged by the weight of the vehicle it is designed for. This is a tested product, and has taken several years to develop.

Quality control for water tightness and Safety notes
Although innovative and easy to operate the wash pads are more than just a simple construction. All wash pads have to be fully tested and we guarantee water tightness of the floor. All welded joints and connections are vacuum tested and inspected during a quality procedure. Every wash pad is given a unique registration number to ensure identification of all the products used during construction.
"Washing the Range Rover in the Snow" Morclean Permanent Wash Pad Demonstration
Please note that many models described on this website are bespoke, and as such cannot always be accurately depicted.
All photographs and illustrations displayed on this website are representative of model ranges or a model series only. Individual models and specifications may vary from those shown.
Please contact us if you require clarification or individual specifications of any equipment. Morclean reserve the right to update and amend the specification of our equipment and accessories without notice and in the interest of the customer.
Images or specifications must not be reproduced with express written consent from Morclean Ltd.
Any prices quoted are subject to VAT @ SR. E &OE