Static Multi Pump Jet Washer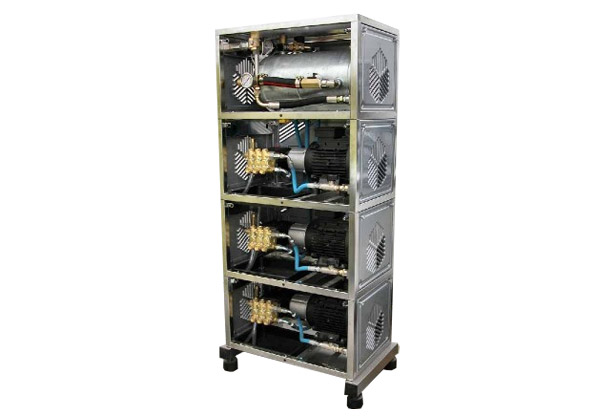 Centralised High-pressure Washing
The Multi Pump Jet Washer is a modular high pressure system which will allow simultaneous washing throughout a building. It is available with 2, 3, 4, 5, or 6 pumps and will allow multiple users.
The standard multipump comes as a 3 pump system which can be added to to provide a maximum of 6 pumps.

Operation
The Multipump system is housed in a plant room. Outlets from it are then piped around the factory and plug in points are installed at each point of use.
You can have numerous plug in points but the number of simultaneous operators depends on the number of pumps. Therefore a 3 pump system means 3 operators can work simultaneously.
As each operator connects to the plug in point, and demands more water, the system starts a 2nd and then a 3rd pump until the correct flow is achieved. When operators stop using a plug in point, the same happens in reverse.
Features
All models of the Multipump Pro Centralized Static High Pressure Washer have a voltage of 400/415V~50Hz, a Linear pump and a maximum water inlet temperature of 75ºC. They are available with either a stainless steel or a painted frame and different lances can be used on the same hose.
The system features an automatic stop system, fault indicator and low voltage controls. It provides easy access to its components for service and maintenance. All the pumps are controlled from one digital control panel, which also monitors the pressure, temperature and volume of water supplied to the pumps.
They are available with a delivery rate of between 1800 l/h and 10800 l/h, pressure between 100 bar and 200 bar, Abs Power between 11 Kw and 33 Kw. They weigh between 130 and 420 Kg and their size ranges from 70 x 130 x 45 cm to 140 x 160 x 45 cm.
A Stainless Steel water tank is available as an optional feature. This is highly recommended for systems with more than 3 pump units.
Above models are listed as a guide only. Morclean may alter specification without prior notice. Listed models do not guarantee availability or supply. E &OE
Click below to view our full product guide. (opens in a new window)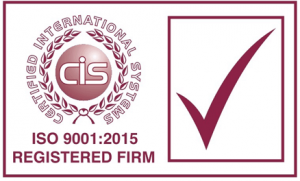 Morclean's quality administration systems have been assured and approved to the standards and guidelines of BS EN ISO 9000:2015 for the sales, service and hire of industrial cleaning equipment.
Our registration no. is 94/121120 and our standards and guidelines are externally audited by CIS.
Please note that many models described on this website are bespoke, and as such cannot always be accurately depicted.
All photographs and illustrations displayed on this website are representative of model ranges or a model series only. Individual models and specifications may vary from those shown.
Please contact us if you require clarification or individual specifications of any equipment. Morclean reserve the right to update and amend the specification of our equipment and accessories without notice and in the interest of the customer.
Images or specifications must not be reproduced with express written consent from Morclean Ltd.
Any prices quoted are subject to VAT @ SR. E &OE