Cold Pressure Washer: MCWSC 1/2
The Morclean MCWS/1 and MCWS/2 are powerful and reliable machines perfect for heavy duty application. With a high pressure chemical injection system and a rate of 15litres of water produced per minute, this jet washer is the ultimate in cold water pressure cleaning. Features include: a leak detection system, automatic stop/start and a Zinc Phosphate steel pre-treatment to ensure the lockable cabinet is weather proof.
Ideal for applications in industries such as; agricultural, food, heavy industry, machinery, vehicle cleaning, shipping, quarrying, petrol stations & oil forecourts.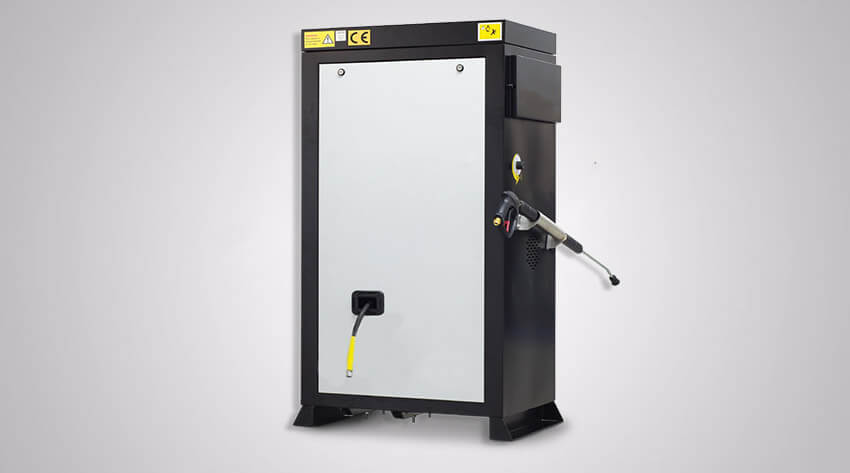 The Morclean MCWS 1/2 comes with the below feautures:
Full frost protection and cabinet lagging
Leak detection
Professional Interpump with ceramic pistons
Industrial 1450rpm 4 pole electric Nicolini motors
Automatic stop/start system
High pressure chemical system
Bypass and safety valve
24v low tension safety controls
Mains power on lamp
Technical Specification
MCWS1
Water Flow: 12lt per minute
Pressure: 100bar, 1500psi
Motor Specification: 3hp, 1450rpm
Chemical: High Pressure
Shutdown System: Auto Stop/Start
Power: 240v
Weight: 60kg 70kg
Dimensions (h x w x d): 160 x 82 x 56cm
Technical Specification
MCWS2
Water Flow: 15lt per minute
Pressure: 200bar, 3000psi
Motor Specification: 7.5hp, 1450rpm
Chemical: High Pressure
Shutdown System: Auto Stop/Start
Power: 415v
Weight: 70kg
Dimensions (h x w x d): 160 x 82 x 56cm
Equipment Cleaning
This cold water jet washer from Morclean is ideal for giving a new lease of life to old looking, dirty equipment. Remove unwanted dirt and debris that gets built up over time after regular use.
Vehicle Cleaning
This wall mounted cold water pressure washer is perfect for the car/vehicle industry, where there is a high volume of cars, vans, machines etc to be washed. Effortlessly remove any built up dirt and debris with the powerful flow of the Morclean WM range.
Industrial Cleaning
These super strong machines are perfect for those working in the industrial sector. With various dirt and debris around, these powerful machines are ideal for taking on the tough jobs of cleaning built up equipment, machines, housings, piping, vehicles and more.
How do I Choose My Pressure Washer?
A pressure washer's performance is measured in both pressure and flow – Both of these are important.
You also need to consider where you will be using the machine, what application you will be using it for and the amount of usage required.
How Does a Pressure Washer Work?
A pressure washer consists of a pump and a motor. The motor drives the pump which applies pressure on the water. As the water is under pressure, it is pumped out at high speed. This effect is very similar to pinching the end of a garden hose. The pump ensures a constant amount of water is produced, the water pressure can be varied by altering the size of the nozzle at the end of the lance.
What is Mobile Pressure?
Mobile units for cleaning on demand, and developing pressures of up to 5000psi. Machines can be fixed or static. Traditional high pressure cleaners are often mobile units, and can be connected to services each time the operators needs to operate.
The operator then has access to settings including the detergent, flow, temperature and pressure