Reduces Effluent Charges from Car Washers


Interceptors Tanks for Vehicle Wash Installations
Reduce pollution and effluent charges from your car wash facility
Reduce pollution and effluent charges from your car wash facility by installing a three stage interceptor tank. Installations will prevent drains from blocking with the added advantage of free flowing oil being removed.
The lightweight interceptor tanks are manufactured from sturdy and durable glass reinforced polyester (GRP) which has corrosion proof and rot proof properties. This one piece tank system, ideal for a speedy installation, can be placed in a forecourt or within a washbay and includes manhole covers (26 tonne capacity).
Water Recycling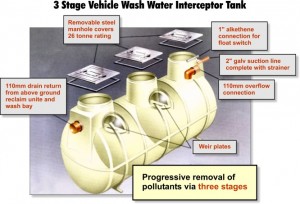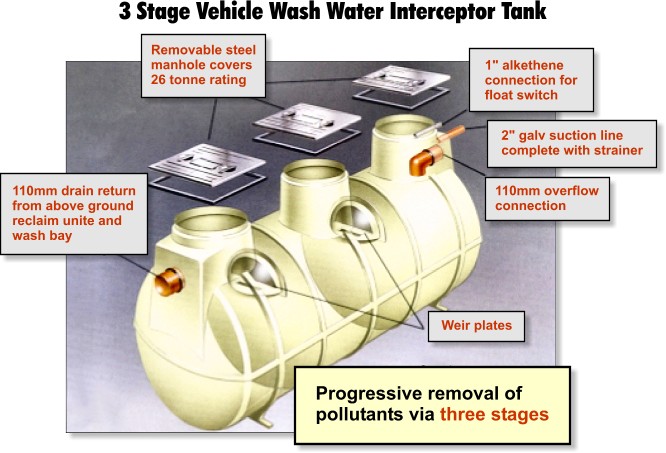 A water recycling system can be installed, at a later date, to the connections fitted at the time of installing the interceptor tank.
A water recycling systems will present savings in water and effluent charges and has the added advantage of ensuring the car wash can still operate under a hose pipe ban during drought situations.
There are numerous interceptor tank models available with different dimensions, weight and water capacity.
Model
Capacity (Litres)
Diameter (mm)
Length (mm)
Small
MWB 2000
2000
1250
2000
MWB 2500
2500
1250
2400
MWB 3000
3000
1250
2850
MWB 3500
3500
1250
3300
Medium
MWB 4500
4500
1250
4200
MWB 5000
5000
1500
3050
MWB 6000
6000
1850
2700
MWB 8000
8000
1850
3470
Large
MWB 10000
10000
1850
4230
MWB 12000
12000
1850
5070
MWB 15000
15000
1850
6200
MWB 18000
18000
2500
4200
MWB 20000*
20000
2500
4800
All Wash Bay Interceptors available in Stage 1, Stage2 and Stage 3.
*Available in extra large sizes over 20,000Litres on request
Please note: This item requires frames and manhole covers
The above requires manhole cover(s) and lid(s) (not included). Due to the weights involved covers and lids are expensive to transport and often cost more to ship than they are worth so we advise you source your own. You can purchase covers and lids from most builders merchants and below is a guide to assist you choosing the best type for the duty.



Type
Size (mm)
Duty
European Standard
Loading
Typical Overground
Class A15
600 x 450
Light
BS EN 124
3 tonne (approx)
Cars/Small Vans
Class B125
Medium
17 tonne (approx)
Cars/Small Commercial
Class D400
Heavy
38 tonne (approx)
Large Commercials/HGV
Bypass separators
Bypass separators fully treat all flows, for the area served, generated by rainfall rates of up to 6.5 mm/hour. This covers most rainfall events. Flows above this rate are allowed to bypass the separator. These separators are used when it is considered an acceptable risk not to provide full treatment for high flows, e.g. where only small spillages can occur and the risk of spillage is small such as on short stay car parks.
In cases where a large spillage might occur, it is not acceptable to use a by-pass separator. The only exception to this is a major trunk road where the size and type of spillage is impossible to foresee and the surface area drained makes it impractical to provide a full retention separator. For major trunk roads a SUDS approach incorporating a number of SUDS techniques is likely to be more appropriate.
On sites where high levels of silt are likely to enter the separator, the build up of silt must not be allowed to compromise the operation of either the separator or the by-pass device. On such sites (e.g. major trunk roads and quarries) an adequately sized silt separation chamber should be installed upstream of the separator and appropriate management systems put in place to monitor the situation and remove the silt when necessary. The use of SUDS techniques can minimise the amount of silt in the surface water run-off.
The EA and SEPA Pollution Prevention Guidelines (PPG) which are jointly produced by the Environment Agency for England and Wales, the Scottish Environment Protection Agency, and the Environment and Heritage Service for Northern Ireland (Ref PPG3 / PPG13 / PPG4 / PPG 14) suggest that Class 2 wash bay silt traps and interceptors should be connected only to a mains foul drain, and Class 1 separators to surface drain.
The above assumes you have the consent to connect any outflow to a suitable drain as per the appropriate PPG Guideline. While we always endeavour to provide best advice and accurate information, it the responsibility of the client and/or landowner to comply with the law. Following any guideline doesn't remove your responsibility to comply with the law and prevent pollution from your activities. Causing or allowing pollution is a criminal offence; compliance with any guidance isn't a defence. You should make sure that the references to other sources of guidance are still current.
Please note that many models described on this website are bespoke, and as such cannot always be accurately depicted.
All photographs and illustrations displayed on this website are representative of model ranges or a model series only. Individual models and specifications may vary from those shown.
Please contact us if you require clarification or individual specifications of any equipment. Morclean reserve the right to update and amend the specification of our equipment and accessories without notice and in the interest of the customer.
Images or specifications must not be reproduced with express written consent from Morclean Ltd.
Any prices quoted are subject to VAT @ SR. E &OE