Bin Wash Auto Trailer
Self-contained trailer mounted automated bin wash machine
The Bin Wash auto trailer  from Morclean is a self-contained automated  trailer mounted  bin wash machine that utilises  2 powerful automatic cleaning heads to clean the insides of wheelie bins without the need for manual washing with a lance by the operator. The system is fitted to a EU Type Approved trailer and is ready to use with self-contained engine and water tanks
The lift mechanism will lower and raise  the smaller domestic  or larger commercial   bins being lifted and hydraulically raise plus tip the bins with the easy to operate  levers, that are fitted to the control panel on the nearside of the trailer.
Internal washing is carried out automatically by 2 powerful rotating cleaning heads that turn in two directions to ensure as much of the internal surface as possible is cleaned
Self-contained water tank with recycling system
Safety relief valve and unloader valve as standard
Two AUTOMATED wash heads within the spray hood
Sturdy levers on the control panel for easy operation
One man single lance option for external cleaning
3 stage filtration with easily cleanable filters
Easy drain / clean tanks with shut off valves
Full water re-use system
Mounted on a custom designed EU Type Approved Trailer (EC Whole Vehicle Type Approval ECWVTA)
| | | |
| --- | --- | --- |
| Item | Specification | Notes |
| Power/drive | Lombardini three cylinder water cooled diesel engine with full auto shutdown for oil and water | Electric start |
| Performance | 40 Lpm high pressure water | Combined flow |
| Nozzles | 2 x 20 Lpm rotary nozzles | Per Nozzle |
| | | Dims required |
| Pressure | 200 Bar | At each nozzle |
| Lift | Hydraulic lift & automated | 2 domestic or 1 commercial bin |
Ideal for larger contracts and multiple cleans  of larger commercial bins, the trailer mounted bin wash  machine is manufactured with an integral water tank and filtration system, simply use the lift mechanism to lift the bins into place and the automated cleaning heads do the rest. The machine will clean either 2 domestic 120 litre or 240 litre  wheelie bins or 1 large 1100 litre  commercial bin at the same time, and will fit any UK/EU type bin.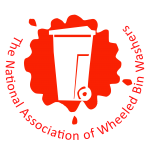 The National Association of Wheelie Bin Washers represents those wheelie bin washing companies that are able to satisfy the associations entry criteria, which requires them to comply with all existing legislation and guidelines for the washing of bins using high pressure pumps.