Vision LV Steam Pro 3.3
Professional sanitising steam generator
Disinfect objects and surfaces for the safety of colleagues and the public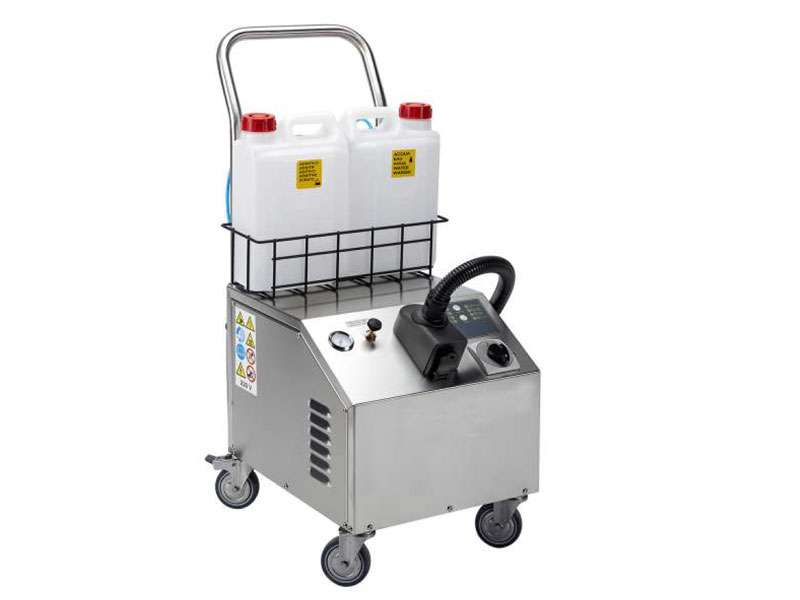 Description
This professional steam generator 4.62Kg steam per hour with a 3300W/230V/50Hz powered boiler is perfect for the disinfection of areas possibly infected with coronaviruses, viruses and bacteria. Protect colleagues and the public in the age old method of steam cleaning. No chemical cleaning means areas are sterilised and ready for use virtually straightaway.
Ecological steam cleaning with the Pro 3.3 cleanses even in the hardest to reach places. Suitable for food and baking industry, private and institutional use, pharmaceutical and mechanical industries, dairy factories, building sectors, and more.
Saturated steam at 9 Bar at a temperature of 175°C
Steam gun with low tension control
Made of AISI 304 stainless steel
3.3 kW boiler s/s AISI 304
Thickness 25/10
Pivoting wheels with breaks, suitable for use in food processing areas.
Steam regulation
Discharge valve
Pressure gauge
Device for using chemicals and detergents mixed with steam
The water heater can be refilled form the tank provided continuous duty
Heating and activation time required: 7 min
| | |
| --- | --- |
| Max Steam Pressure | 9 bar |
| Temperature: | 175°C |
| Steam Production: | 4,62 Kg/h |
| Boiler Absorbed Power: | 3300W/230 V-50 Hz |
| Water Tank: | 5l |
| Detergente Tank: | 5l |