MORCLEAN PR0 7.5
Compact shoulder pressure sprayer

Shoulder pressure spray for Covid-19 deep cleaning and sanitisation. Compact & battery-operated.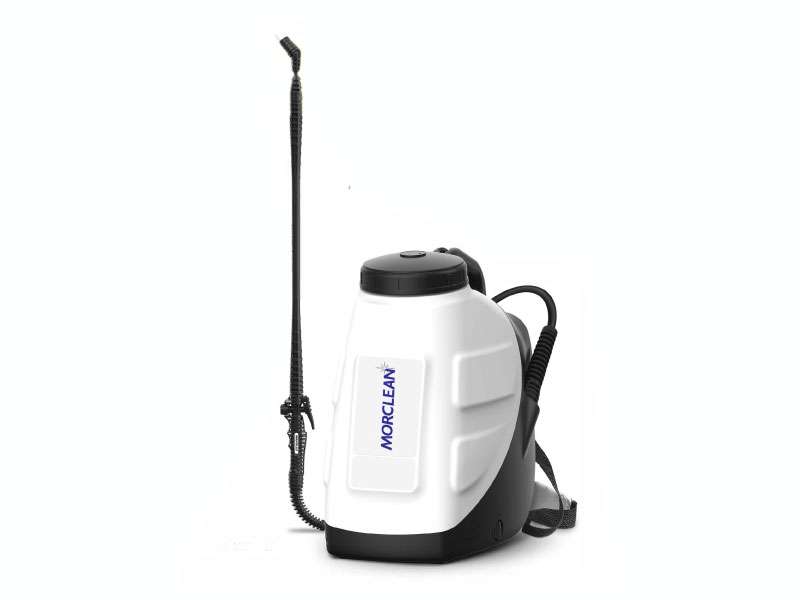 Description
Compact, lightweight, battery-operated, this shoulder pressure sprayer is perfect for deep cleaning; especially those hard to reach areas in stairwells, underneath seating and desks and tables.
The low weight, shoulder pressure sprayer design with a telescopic lance length of 1.15m give you the ability to disinfest all corners of corridors and rooms. The working capacity of 7 L (1.8 gal) means you can be effective with your time in creating a safe environment for staff and customers.
The lance benefits from anti-dust protection to prevent contaminants entering the interior of telescopic lance.
Anti-dust protection
Dosing valve lock
Battery pack
Power supply for charging battery
Gaskets and silicone grease
Soft profiled strap
Nozzle with jet regulation
Hose and lance handle integrated with feeding valve
Telescopic lance with adjustable nozzle
Additional nozzle MR 1mm
Additional nozzle MF3.0
Funnel with strainer
| | |
| --- | --- |
| Total capacity: | 7.5L | 1.65 gal |
| Working capacity: | 7.0L | 1.54 gal |
| Pressure: | 4 bar | 58 psi |
| Weight: | 3.35Kg | 7.3lb |
| Height: | 350mm |
| Telescopic Lance: | 1150mm |
| Battery capacity: | 3400 mAh |
| Battery life: | 1800 cycles |