Hot Pressure Washer: Performance Pro
The Morclean Performance Pro Pressure Washer provides hot water in a mobile capacity. This top of the range professional hot water pressure washer is designed for heavy-duty usage. It is fitted with the latest technology such as a water-cooled jacketed pump for extended pump life and reliability.
Ideal for applications in industries such as; agricultural, food, heavy industry, machinery, vehicle cleaning, shipping, quarrying, petrol stations & oil forecourts.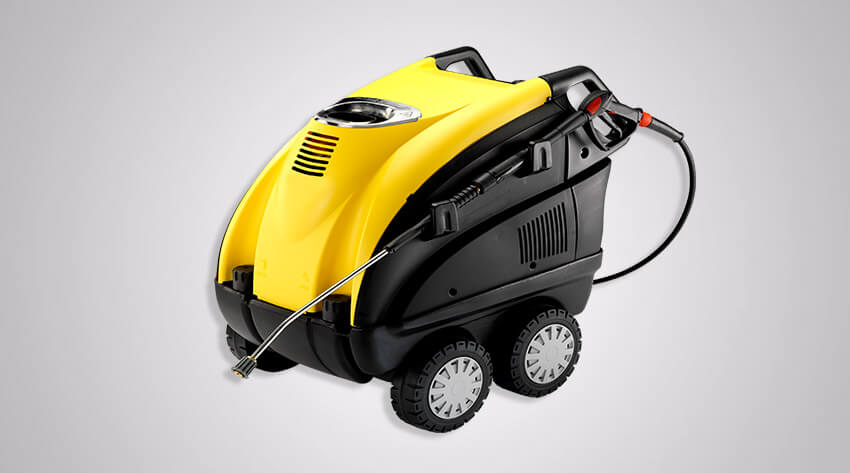 The Morclean Pro Range: Performance Pro comes with the below standard feautures:
Three ceramic coated pistons
brass axial pump head with built-in by-pass valve.
Low voltage and delayed Total Stop.
Suction and delivery valves s/s.
Vertical burner with high thermal efficiency steel coil.
Regulation Temperature gauge Low fuel lamp.
Safety valve.
Built-in Detergent tank for indirect suction.
Pressure regulator.
Pressure gauge Glicerine.
Panel with analogic controls.
Heavy duty steel frame.
Accessory holder.
Two ways fuel pump.
Technical Specification
Performance Pro
Voltage: 240 V
Wattage: 5500 W
Pressure: 150 bar
Flow Rate: 660 Ltrs/h
Max Temperature: 140oC
Motor Speed: 1450 rpm
Agricultural Cleaning
Mud, cow pat and more can build up on agricultural equipment over time and can be a real pain to clean, the MSSPW Range is perfect for effortlessly blasting off dirt and grime. Not only effective on farm machinery but also on things like stables and pens, horse boxes, silos, tanks and milking sheds too.
More Applications
Blast away that built up dirt and debris from heavy duty machines and equipment with this diesel engine, electric start, hot water pressure washer from Morclean. Great for when cleaning heavily soiled machines and equipments is a regular task.
Industrial Cleaning
These super strong machines are perfect for those working in the industrial sector. With various dirt and debris around, these powerful machines are ideal for taking on the tough jobs of cleaning built up equipment, machines, housings, piping, vehicles and more.
How do I Choose My Pressure Washer?
A pressure washer's performance is measured in both pressure and flow – Both of these are important.
You also need to consider where you will be using the machine, what application you will be using it for and the amount of usage required.
How Does a Pressure Washer Work?
A pressure washer consists of a pump and a motor. The motor drives the pump which applies pressure on the water. As the water is under pressure, it is pumped out at high speed. This effect is very similar to pinching the end of a garden hose. The pump ensures a constant amount of water is produced, the water pressure can be varied by altering the size of the nozzle at the end of the lance.
What is Mobile Pressure?
Mobile units for cleaning on demand, and developing pressures of up to 5000psi. Machines can be fixed or static. Traditional high pressure cleaners are often mobile units, and can be connected to services each time the operators needs to operate.
The operator then has access to settings including the detergent, flow, temperature and pressure