MSW800 R ET
Ride on Floor Sweeper
Ideal for large surfaces, the MSW800 R ET battery-powered ride on floor sweeper is idea for both indoor and outdoor areas in factories, warehouses, manufacturing plants, distribution centres and car parks.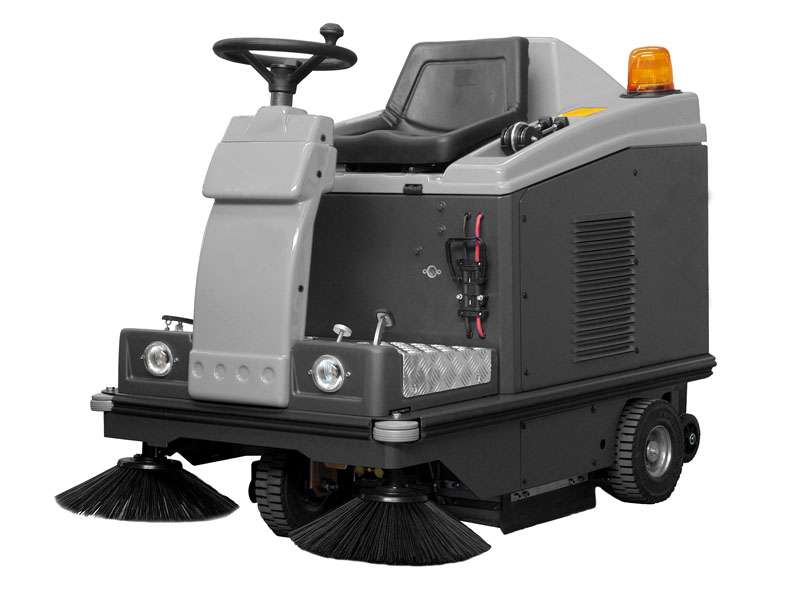 Ride on floor sweeper for large areas
Its powerful dust filtration system contains and retains dust and debris within the machine, providing a dust-free environment in the most challenging and harshest of environments.
Ideal for smooth and uneven surfaces, owing to the machines self-adjusting sweeping system, the MSW800 R ET efficiently handles bulky debris and controls fine dust in busy industrial applications, while offering maximum protection with its strong powder-coated dual-channel steel chassis frame.
The MSW800 R ET provides excellent sweeping performance, up to 35,000 sqm on full battery cycle, providing high productivity and low maintenance costs throughout its lifespan.
Ideal for large surfaces.
Large filter surface distributed on 8 cartridge filters fitted with electric filter shaker.
Side brush raising control.
Complete right/left side brush.
Anti-trace wheels.
Suction switch off.
Lift flap pedal.
Flashing light.
90° steering angle.
Electric starter. Service & parking brake. Hour meter. Klaxon.
Front dust vacuum system.
Main brush and side brush quick changing without tools.
Suction selection lever.
Battery level indicator.
115 lt wide collector tank.
Adjustable seat.
| | |
| --- | --- |
| Main brush width: | 700 mm/27,56 inc |
| Main brush + 1 side brush: | 920 mm/36,22 inc |
| Main brush + 2 side brushes: | 1230 mm/48,42 inc |
| Collector tank: | 62 lt/16,38 gal |
| Max working capacity: | 6200 m2/h-66736 ft2 |
| Traction/limiting gradient: | rear wheels/12% |
| Max speed: | 5,8 km/h-3,60 mile/h |
| Motor type/power: | 24V/1150W |
| Filtering surface: | 6 m2/64,6 ft2 |
| Filter shaker: | electric |
| Dimension: | 143x91x114cm |
| Weight: | 260kg |