MORCLEAN 120 Battery
Battery powered sanitisation cart

Sanitisation cart for Covid-19 deep cleaning and disinfection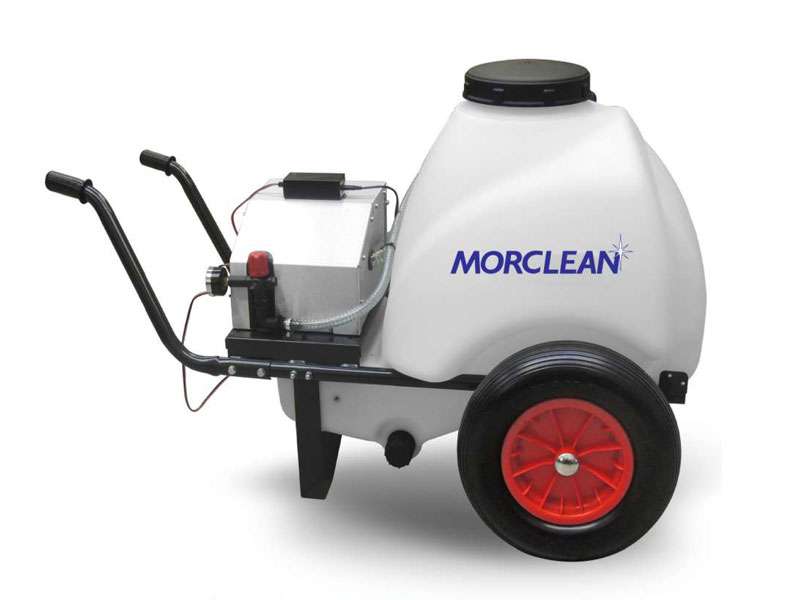 Description
Battery operated sanitation carts that are available in two power versions: 1200HP and 1500HP.
Perfect for use in public areas such as streets, car parks, parks, garden centres, etc.
The battery provides 3 hours of intensive use and is recharged within 10 hours.
The high pressure electric pump will supply a spray with a maximum range of 7 metres and is only switched on via a pressure switch when the nozzle is activated.
Intensive use of up to 3 hours
Maximum spray range of 7 metres
Pressure switch controls pump activation
Brass lance with intergrated nozzle
Standard pressure regulator
12V charger with charge indicator
Glycerine pressure gauge
5 metre or 10 metre hose??
| | |
| --- | --- |
| Capacity: | 120L | 26.40 gal |
| Pressure: | 10 bar | 145 psi |
| Flow: | 5.7L per min |
| Hose: | 5m/10m |
| Lance: | Brass with integrated nozzle |
| Battery capacity: | 24AH or 35AH |
| Battery life: | Up to 3hr intensive use |
| Recharge: | 10hr recharge time |
| | |
| --- | --- |
| MLP0053 | MTP CBM 1200 HP 12V + 24AH battery + accessories |
| MLP0054 | MTP CBM 1500 HP 12V + 35AH battery + accessories |
| MLP0056 | MTP CBM 1200 HP 12V + 24AH battery (not included) + accessories |
| MLP0057 | MTP CBM 1500 HP 12V + 35AH battery (not included) + accessories |