MEVA 20-45 Dry Only Vacuum Cleaner
The Morclean range of MEVA vacuum cleaners has been purposely designed, built, tested and approved as suitable to pick up potentially explosive and conductive dust and debris in a Dust Zone 22.
One of the key features of the MEVA 20-45 is its large-capacity bin, which can hold up to 45 liters of debris. This makes it an ideal choice for larger commercial or industrial spaces, where cleaning can be a time-consuming and labor-intensive task.
The vacuum is also designed for ease of use, with a range of features to make cleaning more efficient. These include a telescopic handle for easy maneuverability, and a range of accessories for cleaning hard-to-reach areas such as corners and crevices.
The MEVA 20-45 ATEX rated vacuum cleaner comes on a stainless steel caddy with anti-static wheels and castors. This machine is available in 20L, 30L and 45L and a Type H version is also available.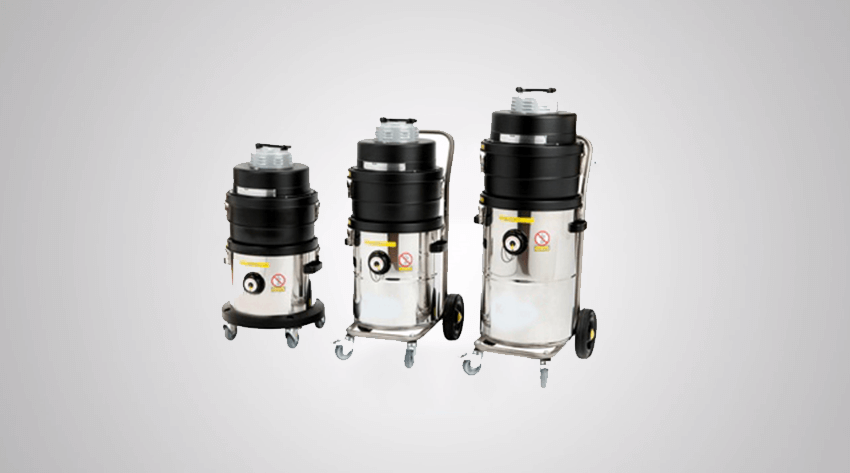 Product Features:
Supplied with full 38mm conductive toolkit
Hose length 3 metres. Longer hoses available
All models use stainless steel canister
Cable length 10 metres
Fitted plug
All models supplied with 5 x microfibre burst resistant disposable bags
Filtration:
1st Stage Microfibre disposable bag with sealing cap
2nd Stage Conductive fabric filter assembly
Mobility:
MEVA 20 – 4 x 75mm conductive castors and conductive plastic chassis
MEVA 30 & 45 – mounted on detachable stainless steel caddy with conductive wheels and castors
All models have a locking/braked castor
Dimensions (H x W x D) mm
MEVA 20 – 830 x 440 x 440
MEVA 30 – 960 x 450 x 500
MEVA 45 – 1080 x 450 x 500
Cleaning range:
28 Metres all models
Weight (kg):
MEVA 20 – 21.2 MEVA 30 – 26 MEVA 45 – 26.8
Motor
1050w Max / 900w Mean
1150w Max / 1000w Mean
Power
110/230v / 50/60Hz
Performance
110v Max Airflow 56Ltr/Sec 230v Max Airflow 59Ltr/Sec
Capacity Litres
MEVA 20 20L
MEVA 30 30L
MEVA 45 40L
ATEX CATEGORY 3 Dust Zone 22 CE EX II 3 D c Ex tD A22 IP6X T100°C Ta = 0°C to +30°C