Cold Pressure Washer: MCPW150 Standard
The Morclean MCPW150 is part of the MCPW15 range. An entry level machine, built for regular usage and is a practical and effective cold pressure washer. Fitted with a sturdy steel chassis, 2 large heavy duty tyres, all contained with in a robust stainless steel cover.
Ideal for applications in industries such as; agricultural, food, heavy industry, machinery, vehicle cleaning, shipping, quarrying, petrol stations & oil forecourts.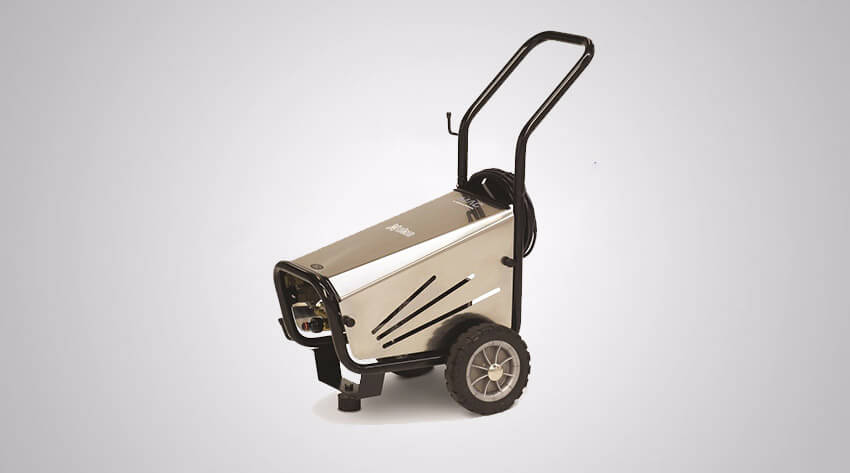 The Morclean MCPW150 Standard comes with the below feautures:
Steel chassis and stainless steel cover
Instant stop shutdown system
Low pressure chemical system
Annovi Reverberi 2800rpm pump and motor set
Pressure Gauge
Ultra Mobile
Supplied with 10mtr High Pressure Hose, Gun, Lance and Jet
Technical Specification
MCPW150 Standard
Type: Mobile
Chemical: Low Pressure
Motor Specification: 3hp, 2800rpm
Pressure: 150bar / 2175psi
Product Weight: 30kg
Power Supply: 240v
Shutdown System: Instant Stop
Temperature: n/a
Water: Cold
Water Flow: 9 litres per minute
Moss & Algae Cleaning
Moss and algae can be a pain to get rid off. This machinemakes it easy to blast away moss and algae from many types of surfaces. Not only is this compact machine great for removing moss and algae but also weeds. Stop tediously pulling weeds out on your hands and knees and blast them out with a Morclean cold water pressure washer
Driveway Cleaning
After time, driveways and patios can build up dirt and grime on the slabs, block paving or concrete and natural stone surfaces. The MCPW150 Standard helps give driveways and patios a new lease of life and back to, as close as possible, its original condition.
Industrial Cleaning
These super strong machines are perfect for those working in the industrial sector. With various dirt and debris around, these powerful machines are ideal for taking on the tough jobs of cleaning built up equipment, machines, housings, piping, vehicles and more.
How do I Choose My Pressure Washer?
A pressure washer's performance is measured in both pressure and flow – Both of these are important.
You also need to consider where you will be using the machine, what application you will be using it for and the amount of usage required.
How Does a Pressure Washer Work?
A pressure washer consists of a pump and a motor. The motor drives the pump which applies pressure on the water. As the water is under pressure, it is pumped out at high speed. This effect is very similar to pinching the end of a garden hose. The pump ensures a constant amount of water is produced, the water pressure can be varied by altering the size of the nozzle at the end of the lance.
What is Mobile Pressure?
Mobile units for cleaning on demand, and developing pressures of up to 5000psi. Machines can be fixed or static. Traditional high pressure cleaners are often mobile units, and can be connected to services each time the operators needs to operate.
The operator then has access to settings including the detergent, flow, temperature and pressure