MAV 15-45 Type H
This range of MAV 15-45H Industrial Vacuum Cleaners is suitable for picking up hazardous dust and debris in Gas Zone 1 and Dust Zone 21.
This vacuum cleaner features a high-efficiency particulate air (HEPA) filter that captures even the smallest particles, making it ideal for use in environments where the health and safety of workers are paramount. It has a 15-liter capacity and a powerful 1500W motor that can handle even the toughest cleaning jobs.
The Vacuum cleaner is fully earth bonded and has an anti-static (conductive) vacuum hose and air supply hose. Every vacuum cleaner is individually tested and provided with its own test certificates for filtration efficiency and earth path continuity.
This range is available in models MAV 15H, 18H, 20H, 30H and 45H.
All Morclean Airvacs ATEX approved as category 2


 II 2 G D c II C T50

 (T6)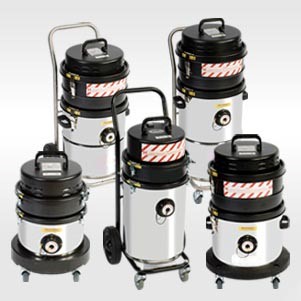 The MAV 15-45 Type H is also designed for ease of use, with a lightweight and portable design that makes it easy to maneuver around job sites. It comes with a range of accessories, including a crevice tool and dusting brush, to help you tackle a wide range of cleaning tasks.
Standard Features:
Easy to use
Accessible for service
optimal suction power
Robust Chassis
Drain hose
Large rear wheels and rotating front wheels
Storage for accessories and cables
For wet or dry vacuum application.
Technical Specifications Filtration:
1st Stage Disposable Micro-Fibre Bag
2nd Stage Anti-Static (Conductive) Cloth Filter
Wet and Dry Models are supplied with a ball type float shut-off assembly
Mobility:
MAV 18 and MAV 20 – 4 x 75mm Heavy Duty Castors
2 x 200mm Wheels on a Heavy Duty Tubular Stainless Steel Caddy. Canister detatchable from Caddy.
Dimensions (mm) Height x Width x Depth:
MAV 18 – 895 x 410 x 420
MAV 20 – 525 x 440 x 440
MAV 30 – 895 x 460 x 500
MAV 45 – 895 x 460 x 500
Cleaning range from Air Point:
16 Metres/52 Feet
Weight (kg):
MAV 18 – 11.5
MAV 20 – 9.00
MAV 30 – 14.5
MAV 45 – 15.9
All models are supplied with a certificate of earth path continuity, a 5 metre conductive air supply hose, a 38mm conductive hose and toolkit. All models are also supplied with 5 disposable micro-fibre bags.
Note: It is the end user's responsibility to ensure and maintain a good earth bond at the compressed air connection point.
MAV 18 to 30 ; 45 – 2 x 75mm Heavy Duty Castors