Hot Pressure Washer: Contractor Plus 200
Equipped with a handgun, nozzle, lance and 10m hose, the Contractor Plus 200 from Morclean is effective for applications in industrial locations such as factories, steelworks, cement plants. Hot water, high-pressure cleaner and enclosed in a strong steel frame with a diesel engine, this superb hot water heavy duty high-pressure cleaner is self contained and requires only a fresh water supply.
The unit is powered by a powerful diesel engine, which delivers the heat required for hot water cleaning. The Contractor Plus 200 has a high-temperature protection device that ensures that the unit does not overheat, making it safe to use for extended periods.
The machine has an adjustable temperature control, which allows the user to adjust the water temperature between 30°C to 150°C depending on the task at hand. The hot water, combined with the high-pressure water jet, makes the Contractor Plus 200 highly effective at removing dirt, grime, and grease from a variety of surfaces, including concrete, vehicles, machinery, and more. Ideal for cleaning large areas such as car parks, or washing down plant and machinery.
Other features of the Contractor Plus 200 include a low fuel warning system and a high-pressure chemical injection system for applying cleaning detergents.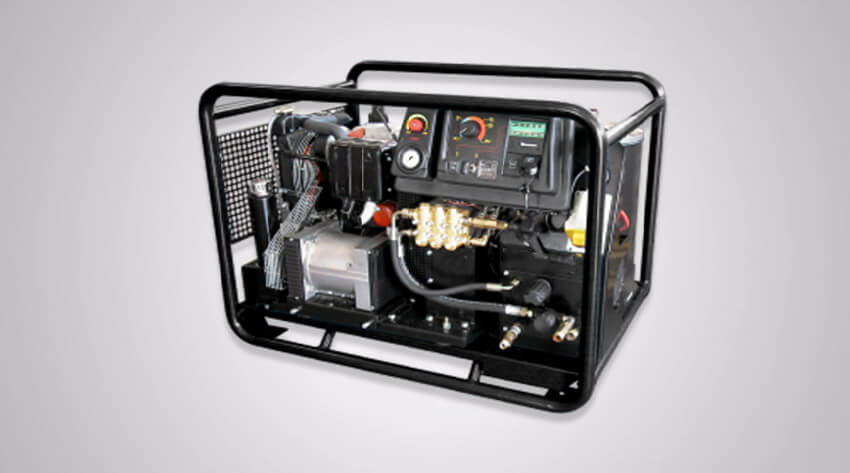 The Morclean Contractor Plus 200 comes with the below standard feautures:
Three ceramic pistons
Brass linear pump head with built-in by-pass valve
By-pass thermal protection with safety valve
2 cylinder water cooled diesel engine with electrical start
Integrated electric generator
Auxiliary belt driven alternator sturdy
Lombardini 15LD400 diesel engine (air cooled)
Belt driven pump (1,450 RPM)
Automatic engine RPM regulator
Tool Socket max 1.5 kW
Integrated detergent suction with external suction probe
Front panel with engine function led and automatic power cut-off
Unique tank for diesel engine and burner
Battery included
Technical Specification
Contractor Plus 200
Operating pressure: max 200 bar
Delivery rate: 1320 l/h
Motorpump type: CL5
RPM: 1600 RPM
Flow: 1 – 100 GPM
Max inlet water temperature 40 °C
Max outlet water temperature: 140 °C
Motor type/HP: LOMBARDINI 15LD400/17
Dimensions: 113x75x85cm
Weight: 220 Kg
Industrial Cleaning
These super strong machines are perfect for those working in the industrial sector. With various dirt and debris around, these powerful machines are ideal for taking on the tough jobs of cleaning built up equipment, machines, housings, piping, vehicles and more.
More Applications
Blast away that built up dirt and debris from heavy duty machines and equipment with this diesel engine, electric start, hot water pressure washer from Morclean. Great for when cleaning heavily soiled machines and equipments is a regular task.
Agricultural Cleaning
Mud, cow pat and more can build up on agricultural equipment over time and can be a real pain to clean, the MSSPW Range is perfect for effortlessly blasting off dirt and grime. Not only effective on farm machinery but also on things like stables and pens, horse boxes, silos, tanks and milking sheds too.
How do I Choose My Pressure Washer?
A pressure washer's performance is measured in both pressure and flow – Both of these are important.
You also need to consider where you will be using the machine, what application you will be using it for and the amount of usage required.
How Does a Pressure Washer Work?
A pressure washer consists of a pump and a motor. The motor drives the pump which applies pressure on the water. As the water is under pressure, it is pumped out at high speed. This effect is very similar to pinching the end of a garden hose. The pump ensures a constant amount of water is produced, the water pressure can be varied by altering the size of the nozzle at the end of the lance.
What is Mobile Pressure?
Mobile units for cleaning on demand, and developing pressures of up to 5000psi. Machines can be fixed or static. Traditional high pressure cleaners are often mobile units, and can be connected to services each time the operators needs to operate.
The operator then has access to settings including the detergent, flow, temperature and pressure