Aqua Prima and MV 18/1 Wet and Dry Vacuum Cleaner Range
Our compact range of Wet and Dry vacuum cleaners offers no compromise on build quality or performance. This model uses an injection-moulded, corrosion-free plastic motor head fitted with our powerful yet reliable twin fan bypass cooling motor, which ensures years of trouble free service.
The Aqua Prima has an injection moulded plastic canister fitted with four twin wheel castors to give excellent manoeuvrability. The MV 18/1 W/D offers greater capacity due to its taller 304 grade non magnetic stainless steel canister. This is mounted on a sturdy tubular trolley fitted with large diameter wheels and castors ensuring stability over less smooth floor surfaces. The compact size yet powerful performance of these models make them most suitable for schools, hotels, restaurants, contract cleaning, offices and public houses.
Both the Aqua Prima and MV 18/1 ranges are designed to be efficient, easy to use, and built to last, making them a great choice for anyone looking for a high-quality commercial or industrial wet and dry vacuum cleaner.
Wet and Dry Vacuum Cleaners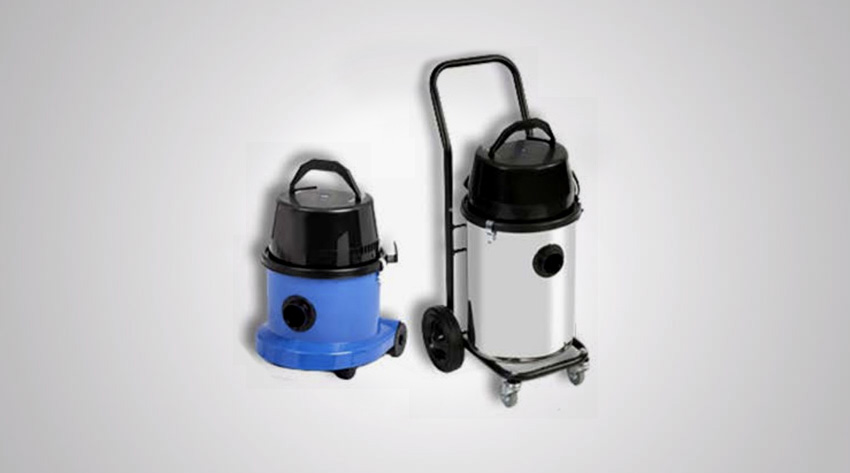 Twin fan bypass cooling motor
Thermal switch protection against overheating
Efficient float ball wet shut off | Wet shut off assembly
Net filter to float cage to prevent motor damage
Two stage dry filtration-Disposable paper bag or reusable cloth bag
Choice of disposable paper bag or reusable cloth bag | Optional high efficiency cloth filter
MV 18/1 W/D can be fitted without bolt on fixed floor tool
Extension wands and bent hose end made from non-magnetic 304 Grade Stainless Steel
MV 18/1 W/D available with 7 piece 38mm WD1 tool kit in place of 32mm toolkit
Standard voltages 230V & 110V. Also available 110V 400Hz for aircraft. 24 or 36V DC
| | |
| --- | --- |
| Motor: | 1000w max 800w mean |
| Power: |  230/110v – 50/60Hz |
| Performance | Max airflow 43.5ltr/Sec | Max vacuum 2,200mm |
| Capacity Litres: | Aqua Prima – 9/14 | MV 18 – 20/23 |
| Dimensions (H x W x D) mm: | Aqua Prima – 470x385x385 | MV 18 – 895x410x420 |
| Weight (Kg): Single/Twin | Aqua Prima – 8 | MV 18 – 15 |
| Cleaning Range: | 27 Metres / 88 Feet |
Supplied with full tool kit:
32mm x 2.5 metre crush proof hose, stainless steel bent hose end with suction control valve, 2 x Stainless Steel wants, floor nozzle with rubber blades for wet pick up, combination carpet/hard floor nozzle, upholstery / stair nozzle, dusting brush, crevice nozzle, double taper tube, dry filter and 5 paper bags.