Hot Pressure Washer: MOR1000DE
The Morclean 1000DE is a diesel powered hot water pressure washer for use in areas where a power source is unavailable. All machines offer efficient and low cost water heating with the EcoPower boiler system. Available in both mobile or trailer-mountable units and offer high efficiency, low cost of cleaning, as well as being user-friendly and easy to use.
Designed for heavy-duty cleaning tasks and features a range of specifications and features that make it suitable for use in commercial and industrial environments. Some of its key features include:
High-pressure output: The Morclean 1000DE has a maximum pressure output of 2175 PSI, which allows it to easily remove dirt, grime, and other contaminants from surfaces.
Hot water capability: The Morclean 1000DE is a hot water pressure washer, meaning it has the ability to heat water to a high temperature. The machine is powered by diesel fuel and can heat water to a maximum temperature of 90°C (194°F), which helps to break down dirt and grease more effectively than cold water.
Fuel-efficient: The Morclean 1000DE is designed to be fuel-efficient, with a high-performance burner that uses minimal fuel to heat water to the desired temperature.
Easy to use: The Morclean 1000DE features a user-friendly control panel and comes with a range of accessories, including a spray lance, high-pressure hose, and nozzle set.
Mobility: The Morclean 1000DE is mounted on a heavy-duty steel frame with large wheels, making it easy to move around job sites. It also has a built-in detergent tank, which allows users to easily apply cleaning solutions to surfaces.
Ideal for cleaning large areas such as car parks, or washing down plant and machinery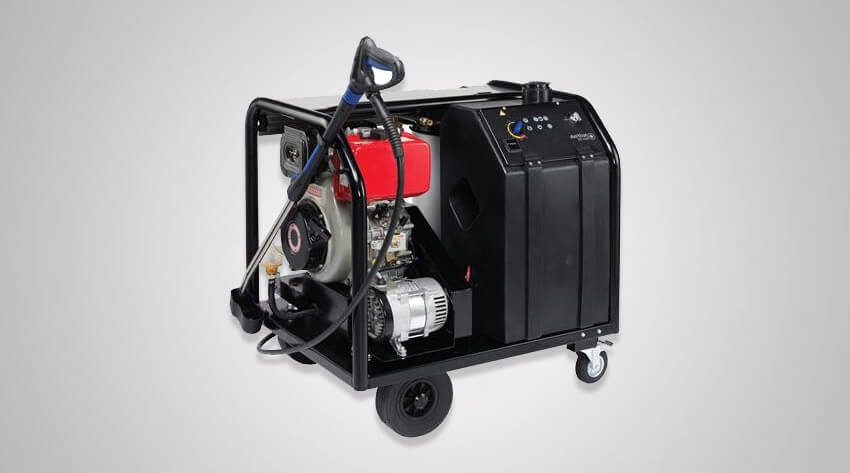 The Morclean 1000DE comes with the below standard feautures:
EcoPower boiler with > 92% efficiency with reduced running costs
Slow running pumps either by belt drive or by direct gear reduction
Integrated fuel tank
Easy to use control panel
Ergo accessory concept
Honda petrol motors, Yanmar or Mitsubishi diesel engines
Mobile units or trailer mounted
Easy transport by forklift truck
Low pump oil safety function
Easy oil drain from pump and motor reduce maintenance costs
Max. Inlet temperature 40°C
Technical Specification
Morclean 1000 DE
Pump Pressure:  200 bar
Cleaning Impact: (kg/force) 5.1
Water Flow qmax/qiec: (l/h) 1000/900
Water Temp ( water / steam )°c 80/150
Number of Pistons: 3 ceramic
Chemical Delivery: Low Pressure
Fuel Consumption: (kg/h) 3.9
Fuel Tanks: (l) 57 / 5.5
Dimensions lxwxh (mm): 1100x700x980
Weight: (kg) 180
Power Supply: Yanmar diesel
HP hose (m): 15
Key Start: yes
Industrial Cleaning
These super strong machines are perfect for those working in the industrial sector. With various dirt and debris around, these powerful machines are ideal for taking on the tough jobs of cleaning built up equipment, machines, housings, piping, vehicles and more.
More Applications
Blast away that built up dirt and debris from heavy duty machines and equipment with this diesel engine, electric start, hot water pressure washer from Morclean. Great for when cleaning heavily soiled machines and equipments is a regular task.
Agricultural Cleaning
Mud, cow pat and more can build up on agricultural equipment over time and can be a real pain to clean, the MSSPW Range is perfect for effortlessly blasting off dirt and grime. Not only effective on farm machinery but also on things like stables and pens, horse boxes, silos, tanks and milking sheds too.
How do I Choose My Pressure Washer?
A pressure washer's performance is measured in both pressure and flow – Both of these are important.
You also need to consider where you will be using the machine, what application you will be using it for and the amount of usage required.
How Does a Pressure Washer Work?
A pressure washer consists of a pump and a motor. The motor drives the pump which applies pressure on the water. As the water is under pressure, it is pumped out at high speed. This effect is very similar to pinching the end of a garden hose. The pump ensures a constant amount of water is produced, the water pressure can be varied by altering the size of the nozzle at the end of the lance.
What is Mobile Pressure?
Mobile units for cleaning on demand, and developing pressures of up to 5000psi. Machines can be fixed or static. Traditional high pressure cleaners are often mobile units, and can be connected to services each time the operators needs to operate.
The operator then has access to settings including the detergent, flow, temperature and pressure