MV100 – Wet & Dry Industrial Vacuum Cleaner
The preferred choice in many industries such as flood clearance, water tank emptying, fire services, flat roofing, etc…
The Morclean MV100 Wet & Dry industrial vacuum cleaner is a powerful and versatile vacuum cleaner designed for use in industrial and commercial environments. It is capable of both wet and dry cleaning, which means that it can clean up both liquid spills and dry debris, such as dust and dirt.
This vacuum cleaner features a large capacity tank, which allows it to clean for longer periods of time without needing to be emptied. It also has a powerful motor that provides strong suction, enabling it to pick up even the smallest particles.
The Morclean MV100 is also designed with convenience in mind. It has a large handle and sturdy wheels, which make it easy to move around, even in tight spaces. It also has a range of attachments and accessories, including a crevice tool and upholstery tool, which make it easy to clean a variety of surfaces.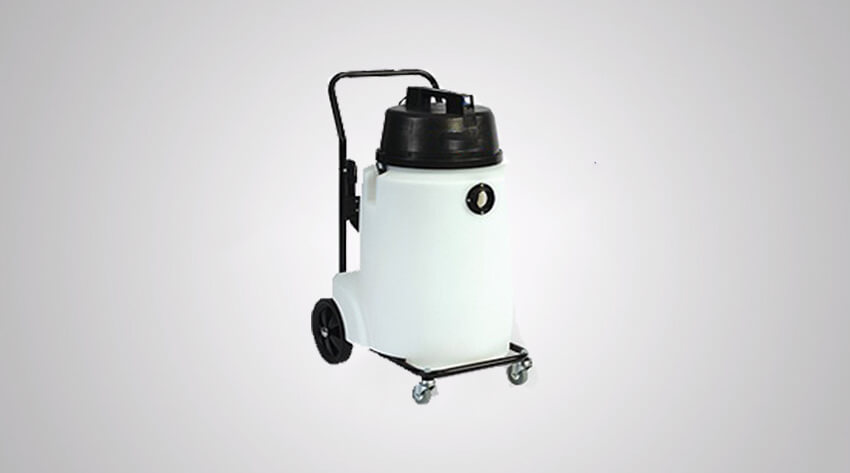 This high capacity industrial vacuum cleaner has been specially designed to cope with large volumes of liquids. The MV100 model range is based on a very strong implosion resistant rotationally moulded plastic canister mounted on a heavy duty epoxy coated tubular caddy. The detachable caddy is fitted with two 240mm rear wheels and two heavy duty swivel castors. The motor head is moulded from thick section dent and corrosion resistant plastic.
Twin fan by pass cooling motor
One or two motors
Thermal switch protection against overheating
Virtually indestructible and corrosion resistant thick section motor head and canister
Efficient float ball wet shut off
Net filter to float cage to prevent motor damage
Drain hose and stopper for liquid discharge
Stainless steel discharge pump will handle particles upto 10mm diameter
Discharge pump rated at 700w for 230v Models and 500w for 110v Models
10 metre see through discharge hose
Hose entry will accept our 38mm and51mm hose and toolkits
| | |
| --- | --- |
| Motor: | 1000w Max / 800w Mean | Twin Motor 2000w Max / 1600w Mean |
| Power: |  230/110v – 50/60Hz |
| Performance | Single Motor Max Air flow 43.5Ltr / Sec | Twin Motor Max Air flow 82Ltr/Sec| Max Vacuum single & twin motors 2200mm |
| Capacity Litres: | MV 100/1 W/D 90/90 | MV 100/2 W/D 90/90 | MV 100/1 WP 90/–MV 100/2 WP90/– |
| Dimensions: | MV100 (H x W x D) mm – All Models 970 x 560 x 640 |
| Weight (Kg): | MV 100/1 W/D 28 / MV 100/2 W/D 31 MV 100/1 WP 33 / MV 100/2 WP 36 |
| Cleaning Range: | 28.5 Metres / 94 Feet |
The standard model, which is suitable for wet or dry pickup, is fitted with a drain hose and stopper to facilitate quick liquid disposal. Pump out models are fitted with a high quality stainless steel submersible pump, automatic float type level switch and 10 metre long see through discharge hose. This allows continuous collection and pump out – especially useful for flooded basements and tanks or where it is too far to push the unit to the water disposal point. Pump out models are suitable for wet pick up only.