Morclean Hot Water High Pressure washers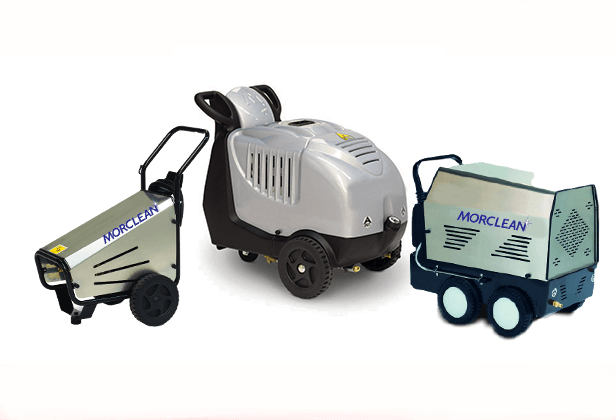 Hot Water High Pressure washers are perfect for washing vehicles and machinery and for cleaning any type of washable surface or floor. They can be used in a wide and varying number of sectors e.g. Agriculture, industrial, marine and shipping, car washing, transport industry – to name but a few.
Hot Pressure Washers
Morclean high pressure hot water cleaners are ideal for heavy duty users. They feature a compact design and easy to use controls, housed within a durable fibre glass or stainless steel cover fitted to a stove enamelled hard wearing chassis and frame with solid tyres. Contained within are self priming pumps with heavy duty fibre seals and brass cylinder heads and components, hard wearing nylon valves and stainless steel valve seats, providing various options of pressure, flow and performance
You would usually need a hot water pressure washer when grease oil or fat needs to be removed. A cold pressure washer could be used in these circumstances but you would need to use a higher concentration of chemical.
How do I Choose My Pressure Washer?
A pressure washer's performance is measured in both pressure and flow. Both of these are important. You also need to consider where you will be using the machine, what application you will be using it for and the amount of usage required.
How Does a Pressure Washer Work?
A pressure washer consists of a pump and a motor. The motor drives the pump which applies pressure on the water. Because the water is under pressure it is pumped out at high speed. This effect is very similar to pinching the end of a garden hose. The pump ensures a constant amount of water is produced, the water pressure can be varied by altering the size of the nozzle at the end of the lance.
Hot water Pressure wash demo
Also Available from Morclean
Click below to view our full product guide. (opens in a new window)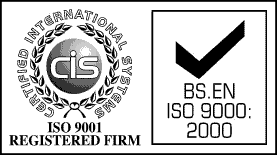 Morclean's quality administration systems have been assured and approved to the standards and guidelines of BS EN ISO 9000:2000 for the sales, service and hire of industrial cleaning equipment.
Our registration no. is 94/121120 and our standards and guidelines are externally audited by CIS.
Please note that many models described on this website are bespoke, and as such cannot always be accurately depicted.
All photographs and illustrations displayed on this website are representative of model ranges or a model series only. Individual models and specifications may vary from those shown.
Please contact us if you require clarification or individual specifications of any equipment. Morclean reserve the right to update and amend the specification of our equipment and accessories without notice and in the interest of the customer.
Images or specifications must not be reproduced with express written consent from Morclean Ltd.
Any prices quoted are subject to VAT @ SR. E &OE