Pedestrian Scrubber Dryers: MSD500 B
Commercial Battery Powered Pedestrian Scrubber Dryer, the Morclean MSD500 B is a medium sized scrubber dryer, with a 500mm brush width, brush assisted traction as well as polyurethane coated rear wheels, it easily takes all of the hard work out of floor cleaning. As it's battery powered, this means no annoying, trailing cables that get all knotted up aswell as the user getting caught up, which can pose health and safety risks.
MSD500B machine is ideal for; Warehouse, Production Area. Distribution Centres, Factory Environment, Airports, Shopping Centres, Schools, Residential Homes and more.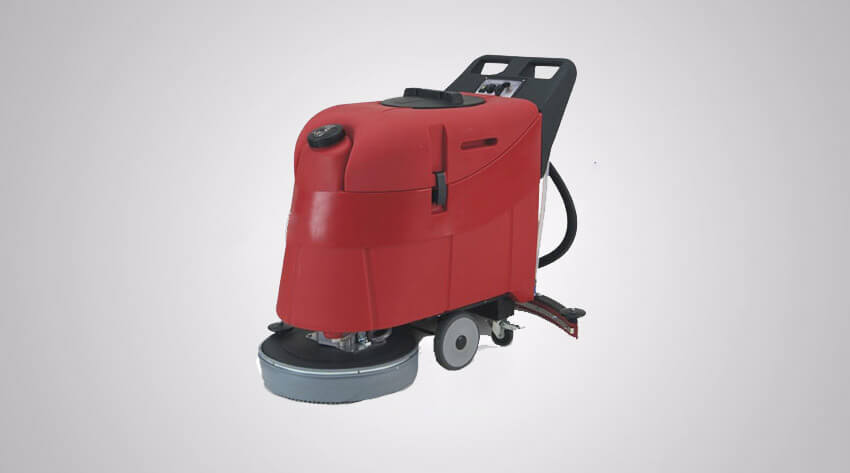 The Morclean MSD 500B Big Walk Behind, Scrubber Dryer comes with the below as standard:
Construction: Reinforced polyethylene chassis & tank
Traction: Brush assisted
Rear wheels: polyurethane coated
Lifetime lubrication on brush motor
Control panel: Ergonomicwith safety switches
Simple switch control
Dirty water drain hose
Water solenoid switch
Battery level indicator
Adjustable control valve for water and detergent
Manual brush & squeegee lift
Complete with PPL brush, 2 x wet batteries and battery charger
Technical Specifications
MSD 500B Big
Dimensions (LxWxH): 115cm x 55cm x 100cm
Speed: Manual
Brush Size: 1 x 500mm
Brush Pressure: 35Kg
Brush Motor: 1 x 24v, 375W
Suction Motor: 1 x 24v, 550W
Cleaning Performance: 1500m2 per hour
Drive System: Brush Assisted Traction
Battery System: 2 x 12v, 120ah Wet Batteries
Product Weight: 72Kg (without batteries)
Recovery Tank Capacity: 50L
Solution Tank Capacity: 45L
Total Scrubbing Width: 500mm / 19″
Squeegee Width: 810mm
Recovery Tank Capacity: 50L
Stone Floors
Cleaning natural stone floors can sometimes be tricky. The Morclean MSD 500B allows the user to easily remove stains and grime from natural stone floors without damaging the surfaces.
Terrazzo Tiles
Terrazzo tiles are very pretty to look at, but they can be a nightmare to clean. With the Morclean 500B Scrubber Dryer, you can get in to all of the nooks and crannies and get these lovely floor surfaces looking better than ever without damaging the tiles.
Educational Institutes
Schools, Colleges and Universities typically require a more frequent cleaning regime, due to a lot of footfall, every minute of every day. The Morclean 500B keeps up with this busy industry and provides the user with a simple to use, easy to maneuver scrubber dryer whilst giving a high standard of cleaning.